Tomato juice for weight loss: benefit and harm

х
All iLive content is medically reviewed or fact checked to ensure as much factual accuracy as possible.
We have strict sourcing guidelines and only link to reputable media sites, academic research institutions and, whenever possible, medically peer reviewed studies. Note that the numbers in parentheses ([1], [2], etc.) are clickable links to these studies.
If you feel that any of our content is inaccurate, out-of-date, or otherwise questionable, please select it and press Ctrl + Enter.
Tomato juice for weight loss is quite popular and effective because this drink is not only healthy, but also contains a minimum of calories. In addition, it allows you to accelerate the metabolic processes in the body, which is also indispensable for those who suffer from excess weight.
The Benefits of Tomato Juice
Tomato juice has many useful properties and besides getting rid of excess weight. It has anti-inflammatory, antimicrobial, choleretic, and diuretic effects on the body, and besides it prevents the development of atherosclerosis and helps to strengthen the capillaries. Along with this, the juice improves intestinal function and prevents the development of dysbiosis.
Tomato Juice Recipes for Weight Loss
There are several recipes for making tomato juice for consumption in order to remove excess weight:
Recipe number 1: you need to take 1 glass of tomato juice, 4 sheets of basil, squeezed out juice of half a lemon, as well as purified cold water (125 g). The mixture of ingredients should be salted to taste, and then mixed through a blender.
Recipe number 2: should take 1 glass of tomato juice, a pinch of cayenne pepper, squeezed juice of 1 lemon, as well as 4 drops of pepper sauce. When juices and peppers are combined, thermogenic ingredients are formed. Pepper increases body temperature, thereby accelerating the fat burning process.
Recipe №3: 1-on a tablespoon of lemon juice, 250 ml of tomato juice, 4 drops of Tabasco sauce, 1 clove of garlic, and 1-on a sprig of celery. All the ingredients must be covered in a blender, then thoroughly mixed.
Tomato juice accelerates metabolism (thanks to the content of useful acids), garlic contains allicin, which affects the metabolism of fats, the property of lemon is the breakdown of fats. Thanks to the sauce of Tabasco, the process of burning calories is accelerated, and with the help of celery, toxins are excreted from the body. In combination, all these elements create an effective drink that burns excess fat.
Recipe # 4: pulp halves of avocado and 250 ml of tomato juice. The pulp should be ground in a blender, and then add the juice there and mix thoroughly.
The combination of tomato juice with avocado makes it easier to digest lycopene, which contributes to the fat burning process.
Recipe number 5: cucumber juice (1 piece), 250 ml of tomato juice, a pinch of black pepper (ground), as well as celery stalk juice (1 piece). All the ingredients must be mixed to obtain a low-calorie vitamin cocktail, which contributes to weight loss.
Kefir with tomato juice for weight loss
Tomato juice with kefir - these products are often combined in a menu of varied diets. For example, there is such a diet with these ingredients: tomato juice (1 cup), kefir (1 liter), and rye croutons (2 pieces). Juice with crackers should be consumed as a breakfast, and then throughout the day to drink only kefir. In addition, you can drink unsweetened tea or water (in unlimited quantities).
This method is used as a 2-day unloading diet - it can be a transition stage before switching to a low-calorie diet or by quickly getting rid of a few extra centimeters.
Tomato juice soup for weight loss
There are several recipes for making tomato soup.
A variant of a cold dish. It should take 1 kg of tomatoes, which need to be scalded with boiling water. Then peeled from them, and sent to a blender to form a tomato gruel. Then it should be added finely chopped basil, as well as carrots (1 piece, rubbed on a grater) and onions (1 piece, cut into rings). There is such a soup you need chilled - it is the basis of a dietary diet. Diet in a classic form with soup should be supplemented with alternating daily products:
on the 1st day of 1 kg of fruit;
on the 2nd day + 2 kg of vegetables;
on the 3rd day + 2 kg of fruit with vegetables;
on the 4th day + 400-500 g of meat.
After that, the use of additional products must be repeated again in the same sequence. The total duration of this course is a maximum of 2 weeks. At the end of this period, you need to switch to a moderate diet. Such cycles of a diet with the use of cold tomato soup are allowed to repeat a maximum of 1 time within 3 months.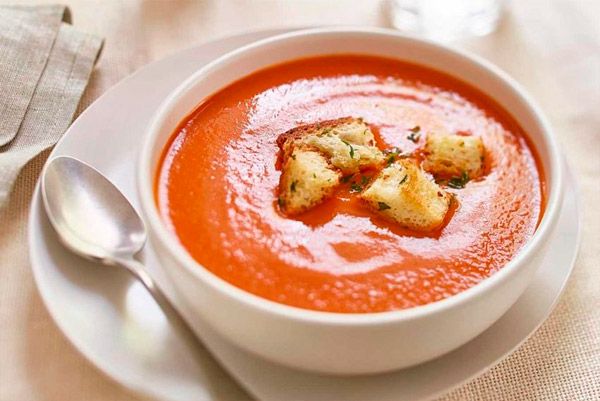 Option with hot soup. There are 2 cooking recipes for this dish.
For the first recipe, you need ingredients such as tomatoes (1 kg), vegetable broth (1 l), garlic (2 cloves), Bulgarian pepper (1 piece), olive oil (2 tablespoons) and basil (enough pinch). You need to cut the tomatoes and fry them in olive oil, along with garlic and bell pepper (cut into strips). Ready mixture to fall asleep in broth and cook for 5-6 minutes, after which season soup with basil.
For the second recipe you need: tomatoes (5-6 pieces), carrots (2 large), 1 onion and beet, and chopped white cabbage (200 g). Beetroot and carrot should be rubbed through a grater, and tomatoes with onions - cut. Next, pour the vegetables into a saucepan, add water and then cook, waiting for the cabbage to soften. Add salt only in the already prepared dish.
On 100 g of this tomato soup, on average, about 40 kcal - this allows you to sufficiently fill the stomach.
Rice and tomato juice for weight loss
A rice-based diet with tomato juice lasts only 3 days - this period allows to unload and purify the body, since in this case you will have to eat low-calorie food that is easily and quickly digested.
Recipe # 1:
1st day: it is required to divide into 3-4 consumptions 1 cup of rice (boiled), without adding salt and oil. Together with rice you need to drink 1 glass of pure tomato juice.
Day 2: it is necessary to eat 1 tablespoon of cooked rice 3 times a day, and drink this portion of tomato juice. In the course of the day, you can drink a maximum of 1.5 liters of fresh and without tomato juice.
The third day: in the course of the day you can drink 2 liters of tomato juice, and also drink water without gas in unlimited quantities.
Recipe # 2:
The first day: boiled rice without oil and salt (1 glass), and in addition, juice from tomatoes (1.5 liters).
Day 2: the same amount of rice as on the first day of the diet, plus the tomato juice (1 liter).
3rd day: rice in the same amount as on the previous two days, washed down with tomato juice (0.5 liters).
Drink only natural or freshly squeezed juice, because in the drinks from the package contains sugar and other non-dietary additives. The volume of rice should be measured in dry form.
Tomato juice with celery for weight loss
To prepare celery with tomato juice you need - cuttings celery (1 kg), tomatoes (3 kg), and salt.
Through the juicer, you need to squeeze out the juice from the tomatoes (or scroll them in the meat grinder, then rub the formed gruel through a sieve). The resulting juice is required to boil. Celery should be washed and then cut into small slices. Then fill it in a saucepan and add the juice, then boil it. The resulting mass is wiped through a sieve and boiled again. 
Diet with tomato juice for weight loss
Tomato juice for weight loss can be used in several different dietary techniques.
Three-day diet:
during breakfast you need to eat 1 boiled egg and drink it with unsweetened tea or coffee;
for the 2 nd breakfast: skim cottage cheese (200 g) is eaten and washed down with a glass of tomato juice;
for lunch: you can use a boiled chicken or turkey breast (200 g) or instead, low-fat fish along with a salad of several vegetables (such as cucumbers, tomatoes, and, in addition, Bulgarian pepper), which is seasoned with lemon juice;
for the dessert red berries (about 150 g) will do;
for dinner, you should drink tincture on herbs.
In day it is required to drink 2 liters of pure water (it is necessary to use not aerated).
Seven-day diet. For a day you can drink no more than 1 liter of juice. It is extremely important to drink 1 glass of a drink in the morning and in the evenings, and the remainder to stretch for the whole day.
Menu:
The first day - in addition to the juice can be used 6 potatoes (welded in the "uniform");
The second day - in addition to tomato juice - 0.5 kg of fat-free cottage cheese;
3rd day - supplement the diet with fruits (1 kg). They can be anything, except grapes and bananas;
4th day - an additional 0.5 kg of chicken breast or turkey (boiled);
5th day - the diet is supplemented with dried fruits (700 g), any, except for raisins, bananas, and also figs;
Day 6 - supplemented with natural yoghurt (500 ml);
The 7th day - 0,5 kg of fish of low-fat variety or boiled breast (chicken or turkey - for choice).
All this must be prepared without adding salt and any spices.
Two-week diet:
breakfast follows 2 slices of black bread with the addition of cottage cheese, 1 fruit (excluding grapes with bananas), as well as 1 glass of juice;
The lunch portion should include 100 grams of low-fat varieties of boiled fish, as well as rice, and in addition a salad of several vegetables (tomatoes, cucumbers, and also salad peppers) and 1 glass of tomato juice. For dessert there is one apple;
for a mid-morning snack you need to drink another glass of tomato juice;
you can have supper with rice porridge (50 g) with steamed beef steak, and in addition with a salad of several vegetables (the same as for lunch). Dinner finish with apple and tomato juice.
The second variant of a two-week diet:
breakfast followed by biscuits with a slice of hard cheese, and besides 2-3 plums, 1-2 pears, and along with this glass of juice and toast, seasoned with butter;
dine follows a low-fat fish, steamed (100 g), and in addition a salad of vegetables (from the previous version of the diet), which must be filled with lemon juice. To drink a dinner with a glass of juice. Dessert is eaten by a green apple;
dinner must be boiled or baked in foil beef meat (100 g), and in addition, dressed with sour cream carrots and cabbage salad and juice.
In addition, during the diet, you need to drink plenty of fluids - green tea or purified water.
[1]