х
All iLive content is medically reviewed or fact checked to ensure as much factual accuracy as possible.
We have strict sourcing guidelines and only link to reputable media sites, academic research institutions and, whenever possible, medically peer reviewed studies. Note that the numbers in parentheses ([1], [2], etc.) are clickable links to these studies.
If you feel that any of our content is inaccurate, out-of-date, or otherwise questionable, please select it and press Ctrl + Enter.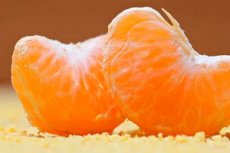 Tangerines perfectly combine pleasant taste and rich composition. Is it always good for health? In particular, are mandarins appropriate for patients with gastritis? It is impossible to answer unequivocally. The question is what form of gastritis the patient has been diagnosed with. Depending on this nuance, the answer may be completely opposite.
Can tangerines be used for gastritis?
Citrus lovers often ask doctors if tangerines can be used for gastritis? The answer must be sought in the composition of a popular fruit loved by most adults and children. After all, bright fruits brought from warm regions bring both pleasure and benefit to all healthy. How do tangerines affect digestion with gastritis?
During normal functioning of the digestive tract, tangerines are useful, in particular, dietary fiber promotes the digestive process, normalizes metabolism, and essential oil even improves mood.
Gastroenterologists believe that orange citruses should not be consumed with gastroenterocolitis, ulcers and erosion, because they can provoke severe pain and complications. With gastritis, the product is included in the menu only during the period of remission. Provided that the fruits are ripe and sweet and that they are mixed with bananas in the following proportion: half a tangerine and a whole banana together are made into a smoothie. At the same time, it is important to monitor your well-being: if discomfort or pain is felt, the fruit is deleted from the menu and the attending physician is informed about it.
With low acidity, citrus fruits are not only allowed, but very much even welcomed.
They stimulate the secretion of gastric juice, reduce blood viscosity, and optimize cholesterol content. The recommended dose is 300 ml fresh juice in three doses or several whole fruits during the day.
In the chronic form, tangerines are prohibited in the diet, as in the acute stage of erosive gastritis. During remission, a small dose of citrus combined with a banana is allowed. The patient should solve this issue individually, during consultation with a doctor.
Tangerines for gastritis with high acidity
The task of the diet with increased gastric acidity is to reduce the activity of gastric juice. For this purpose, exclude food that stimulates secretion and irritates the inner lining of the stomach. A particularly gentle diet is recommended in case of exacerbation of the process.
From fruits and berries, only sweet ones are recommended, and then not fresh, but mashed or boiled. Kissel, compotes, jellies, mashed potatoes - these are typical fruit dishes and drinks from the permitted group. Tangerines for gastritis with high acidity are not included in this list.
People with such a diagnosis should eat in small portions, at the same time, five to six times a day. Smoothies or juice from tangerines with gastritis with high acidity should not be drunk. In the hypoacid form, freshly prepared drinks should be at a comfortable temperature, because hot drinks irritate an inflamed stomach, and cold foods require too much energy to digest.
Any drinks, including water, are drunk 30 minutes before or a quarter of an hour after, but not in the process of eating.
With gastritis, not only the temperature regime plays an important role, but also the saturation with vitamin C. Thermal and chemical irritants are harmful to a sick stomach. Therefore, tangerines on the menu are best replaced with neutral bananas.
Tangerines for atrophic gastritis
Atrophic gastritis is understood as a complex disease with the likelihood of severe consequences. This is a precancerous condition of the stomach, the most common cause of it is Helicobacter pylori. Its prevalence is striking in the number of people who suffer from this disease.
Doctors advise patients to eat citrus fruits, as they contain many substances that support the body in resisting disease.
However, the therapeutic diet does not provide for the use of tangerines for atrophic gastritis. The explanation is simple: the inflamed stomach lining does not tolerate additional irritants, and just such a factor is any acidic product. As a result, with increased acidity, the atrophic focus may increase, complicating the course of the pathological process.
Sour tasting tangerines with gastritis can cause nausea, discomfort, pain. During the period of exacerbation, they are unacceptable on the patient's table, and in remission they are allowed in limited quantities.
If the acidity is low, tangerines have a beneficial effect on the contents of the stomach and the entire digestive tract. They normalize the digestive process, promote appetite, and eliminate discomfort. The antioxidants contained in the fruits stimulate tissue regeneration, immunity, and blood circulation. Carotenes suppress cancer cells that are formed during erosive form and peptic ulcer disease.
Benefits
For older people, not spoiled by abundance of fruit, ordinary tangerines were associated with their favorite holiday - the New Year. To many, their aroma still reminds of childhood, home comfort, the expectation of a fairy tale and the fulfillment of desires. And this is no coincidence: essential oils act in such a way that a person's mood and well-being improves.
The benefits of citrus fruits are expressed in more specific data. Specifically tangerines:
remove toxins;
prevent many diseases;
prolong youth;
have a positive effect on the circulatory system, thin the blood;
strengthen blood vessels, optimize cholesterol levels;
improve the work of the digestive system;
cleanse the intestines.
Tangerines for gastritis include or not in the diet, depending on the form and stage of the disease. So, with hyperacid gastritis, they are undesirable. And this is logical, because there is already too much acid, from which the mucous membrane of the entire gastrointestinal tract suffers, and there is no need to add an additional portion of acidic components to this environment. With low acidity, there is no such danger, but it is not recommended to abuse the fruits. Citrus fruits are a good source of nutrition with adequate amounts of vitamin C. In addition, fruits are rich in other macronutrients, including sugars, dietary fiber, potassium, folate, calcium, thiamine, niacin, vitamin B6, phosphorus, magnesium, copper, riboflavin, and pantothenic acid. Due to metabolites (alkaloids, coumarins, limonoids, carotenoids, phenolic acids and essential oils) citrus fruits exhibit abundant biological activity, including antioxidant, anti-inflammatory, anticancer, antimicrobial and antiallergic activity, as well as cardiovascular, neuroprotective, and hepatoprotective effects.[1]
It is important to remember that after tangerines and oranges, you cannot immediately brush your teeth, because the acid enamel softens and becomes temporarily very vulnerable. [2]
Contraindications
Citrus fruits are known allergens. It manifests itself especially often in children. Therefore, competent pediatricians advise parents to feed their children not imported, but with local products, to which each organism is genetically adapted.
There are also contraindications for adults. Tasty and healthy fruits are appropriate in the diet of a healthy person, but due to the fact that they increase acidity and irritate the mucous membranes, they are undesirable in inflammatory diseases of the digestive system. Tangerines for gastritis with high acidity are excluded from the diet in any form. [3]
Patients with cholecystitis, hepatitis, acute gastroenteritis, nephritis should not eat citrus, and diabetics should not abuse, in particular, not drink canned juices. Better to eat the whole fruit or cook fresh.
Some lovers even eat skins - fresh or make jam from them.
This is not the best choice, because modern technologies for growing tangerines provide for their processing from pests and fungi, and during transportation, chemicals are necessarily used to preserve the freshness and presentation of the product. All this "periodic table" with the peel enters the digestive organs, provoking poisoning or disruption of the gastrointestinal tract. [4]
You should also not eat the seeds, which are contained in some varieties, because they, like in the seeds of other fruits, have a high percentage of toxic hydrocyanic acid.
Complications
To avoid possible complications, a healthy person should not eat more than two or three fruits a day. This is when more is not better, and too much vitamin C is no better than not having enough. Hypervitaminosis and overdose provoke diarrhea and rash, while hemoglobin and erythrocyte counts decrease. 
Tangerines for gastritis are harmful due to high acidity. Healthy people are also not recommended to eat sour fruits on an empty stomach.
Typical complications in children are an allergic rash on the face and body. Nursing mothers should know about this, because milk allergens come to the baby and can be dangerous to his health.
Dish recipes
Healthy people usually eat tangerines fresh. The fruits ripen in autumn and in the cold season it is very useful to supplement the diet with vitamins, pectins, aromatic juices. Tangerines for gastritis, to whom they are allowed, are usually recommended in the form of fruit salads, fresh juices or smoothies. They make amazingly tasty jam, aromatic compote, sauces, various pastries, jelly, panna cotta.
In world cuisines, there are many savory recipes for sunny fruits. In particular, they go well with meat and seafood, vegetables. Tasty and healthy drink - tangerine tincture.
To prepare milk-tangerine jelly, you need the following ingredients:
360 ml of water and milk;
1 tsp agar agar;
2 fruits;
8 tsp Sahara.
Sugar and agar-agar are mixed with water, brought to a boil, boiled for 3 minutes. Milk heated to 36 degrees is poured here, constantly stirring the mass. The cleaned slices are laid out in portioned molds, poured with milk mixture and placed in the refrigerator. The frozen dish is served at the table.
An excellent drink is the apple-tangerine compote. It is made from large slices of peeled tangerines and apples. They are put in water, sugar is added there and a cinnamon stick is dipped. After boiling, throw in a little zest. The compote should be drunk at a cooled, comfortable temperature.
A patient with stomach problems should be careful in choosing fruits. With high acidity, tangerines are not consumed for gastritis, with low - in a limited dosage. Some sources recommend eating the fruits fresh, others - processed: in the form of juice, puree, jelly. Ripe sweet tangerines should be chosen for food - without traces of rot and any spots. They provide maximum benefits and, in acceptable dosage, do not pose any risks to the digestive system.