Vitamin A for the skin of the face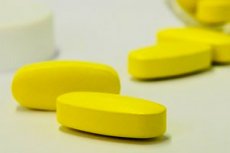 Retinol or vitamin A is very useful for dry and problematic dermis. The substance has pronounced anti-inflammatory, antioxidant and moisturizing properties. The microelement has two forms: a ready-made vitamin and provitamin (carotene), which enters the body with food and is transformed into a high-grade retinol.
Benefit
The main benefit for skin:
Accelerates blood circulation.
Cures inflammation.
Struggles with acne and other skin defects.
Neutralizes the effect of free radicals, prevents aging processes.
Stimulates cellular renewal.
Aligns the relief and improves the complexion.
Increases elasticity and improves the structure of the skin.
Retinol can be used as a primary or auxiliary means for regular care of any type of skin. The substance is recommended for such cosmetic problems:
Dryness, flaking and rashes.
Teenage acne, couperose.
Uneven texture and relief.
Dark circles under the eyes and swelling of this zone.
Dull complexion.
Wrinkles, flabbiness.
Retinol is the main component of expensive anti-aging cosmetics. The concentrated substance can be purchased at the pharmacy and used for cooking home masks or lotions. Retinol acetate is available in the form of an oily solution, in the form of capsules and in ampoules.
Recipes for face care based on retinol
Take a teaspoon of nourishing cream for your skin type, 5 drops of aloe juice and 10 drops of vitamin A. Mix the ingredients thoroughly and apply a thick layer. After 20 minutes, gently remove with a cotton swab or napkin.
Mix in equal proportions olive oil and retinol. Apply the mixture on your face every night before going to bed.
Prepare 1 tablespoon of aloe juice, ½ teaspoon of oatmeal and 5 drops of retinol. Mix everything well and apply, avoiding the area around the eyes. After 15-20 minutes wash with warm water.
Before applying the microelement, you should consult a beautician, so there are contraindications to its use. Retinol is prohibited for use in skin diseases, individual intolerance and open wounds with purulent contents. Also, attention should be paid to the ingredients in the recipes, as some of them can cause allergic reactions.
To increase the effectiveness of a useful substance, before applying it, the skin needs to be steamed and cleaned. Despite useful properties, prolonged use of retinol can lead to thinning of the skin, the appearance of dryness and peeling.
It is important to know!
The ECG reveals signs of metabolic disturbances in the myocardium, tachycardia. With myocarditis, the conduction delay, extrasystoles, and decreased electrical activity of the myocardium were recorded. Occasionally, ischemic changes in the cardiac muscle are observed-the display of generalized vasculopathy affecting the coronary vessels.
Read more..