Medical expert of the article
New publications
How to get rid of irritation after shaving?

х
All iLive content is medically reviewed or fact checked to ensure as much factual accuracy as possible.
We have strict sourcing guidelines and only link to reputable media sites, academic research institutions and, whenever possible, medically peer reviewed studies. Note that the numbers in parentheses ([1], [2], etc.) are clickable links to these studies.
If you feel that any of our content is inaccurate, out-of-date, or otherwise questionable, please select it and press Ctrl + Enter.
The irritation that appears on the skin after shaving is not only an unpleasant side effect, but can also cause many problems. It is very important, if this has already happened, not to try to shave again. Do not comb the pimples, as you can damage them and infect them. If you are looking for ways to get rid of the irritation after shaving, it's worth looking at the various tools that many manufacturers offer to us today.
Remedies for irritation after shaving
Today in pharmacies and conventional cosmetics stores you can see a variety of means of irritation after shaving. Do not rush to buy the most advertised or expensive. First you need to understand what you need to pay attention to when buying.
You need to look for drugs that include salicylic acid, witch hazel, glycerin, aloe vera.
If there are several of the above components in one tool, you should give preference to it. Also note that some drugs are applied to the skin, while others can be rubbed into places of irritation with a cotton swab.
If you do not know what means to choose, you can go to the beauty salon to a hairdressing wizard. He will help you choose a cream or gel that best suits your particular case. You also need to apply the funds correctly to the skin.
Salicylic acid
It is a popular antiseptic for topical application. It is often used to treat irritation after shaving. Drug supplement: 70% ethanol. Has keratolytic, local-irritating, antiseptic, anti-inflammatory effect.
To get rid of unpleasant sensations and redness, it is necessary to apply to the skin two or three times a day. But it is worth remembering that the maximum dose for adults is 10 ml of salicylic acid per day. The therapy can last no more than a week.
Please note that salicylic acid is not recommended for use during pregnancy and lactation. In some cases, side effects are possible: itching, burning, allergies, individual intolerance, hyperemia.
Aspirin from irritation
It is interesting, but a strong irritation after shaving can easily and quickly remove the usual aspirin, which is sold in any pharmacy. In order to do this, you need to take two tablets and crush them into powder. You need to do this in glassware. After that, add glycerin.
Rub the resulting remedy into irritated areas, lightly massaging. Do not rinse. Give aspirin with glycerin completely absorbed into the skin.
[1], [2]
Vagishil
Vagisil is a special remedy that is designed to combat irritation of the skin after shaving. It is available in the form of a gel and cream. Vagisil helps to get rid not only of pimples and redness that may appear after using a razor or other similar means, but also to remove the itching and burning sensation in the intimate zone.

Cream Vagisil is designed to be applied to the skin to avoid various unpleasant sensations. The active components of the remedy are plant extracts, so it has no side effects. Apply the cream after each shaving procedure or when you feel discomfort in the intimate area. It is also suitable for maintaining a healthy pH balance.
Panthenol
It is a drug that is used to repair damaged mucous membranes or irritated skin. Usually Panthenol is used to treat burns, bullous dermatitis, abrasions, blistering dermatitis, redness and irritation. For best effect, it is recommended to use the drug in the form of a spray.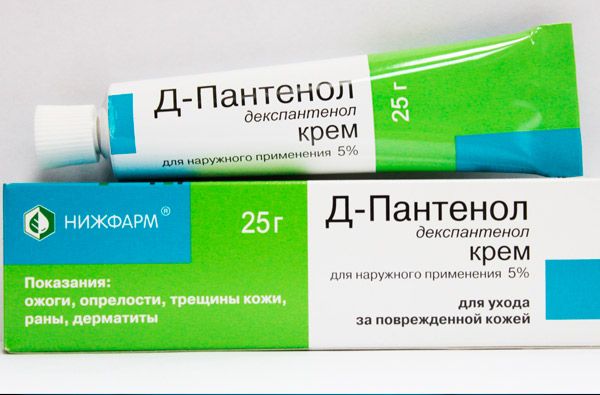 The active ingredient is dexpanthenol. He perfectly copes with the regeneration of the skin. Before applying to the damaged area of the skin, shake the can several times. Use only after shaving, if you have already noticed signs of irritation. In some cases, Panthenol can trigger the development of an allergy.
Bepanten
Another popular drug that allows you to quickly and easily get rid of irritation on the skin after shaving. It is analogous to Panthenol. Produced in the form of a cream. It helps to improve trophism and tissue regeneration. Active substance is dexpanthenol.
Using Bepantin, apply a thin layer of the cream on the irritated skin and rub with light massaging movements. To get a positive result, repeat the procedure at least twice a day.
The cream is well tolerated and does not cause side effects (except for rare manifestations of allergies), it can be used during pregnancy, during lactation and for the treatment of dermatitis in infants. Do not use with an individual drug intolerance.
Boro Plus
This Ayurvedic antiseptic cream helps to quickly get rid of irritation on the skin after shaving. Has anti-inflammatory and antifungal effect. Due to this, it can be used to treat scratches, abrasions, cuts, burns (only superficial), insect bites.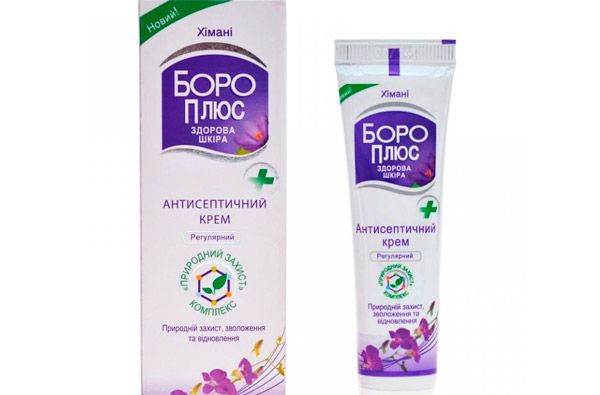 The composition of the drug includes only natural substances: aloe vera, tulasi, kapary kachary, him, turmeric, sandalwood and vetiver. If irritated after shaving, apply a small layer of the cream and rub it lightly. You can apply up to two times a day. Use until redness and other symptoms of irritation go away.
Cream from irritation after shaving
There are various creams from irritation after shaving. Some of these are applied to the skin just before the procedure to soften the skin. Others can be used after the procedure if discomfort has already appeared. Typically, these creams nourish the skin, soften it and make it more pleasant and silky.
Why do creams help get rid of irritation? Usually, redness and pimples appear due to the fact that the skin is too over-dried. That is why it must first be cooled or softened.
Of course, everyone chooses a cream that best suits him. Many manufacturers of cosmetics offer a variety of products with different composition and active substances. When buying, try to choose those that do not cause you allergies or worsen the itching of the skin. The most popular manufacturers to date are: Nivea, L'Oréal, Garnier.
Baby cream
Despite the fact that children's cream is intended for the treatment of diaper dermatitis and diaper rash in infants, adults often use it. Especially popular is in the treatment of irritation after shaving, as quickly softens the code, nourishes it and fights against inflammation. In doing so, you can always find a baby cream with chamomile, celandine, for moisturizing, with a soothing effect, alternating.
Moreover, one more important advantage of a baby cream is its complete safety. You can be absolutely sure that this tool will not bring discomfort, even if you are prone to allergy. Its low cost is an equally pleasant moment. That is, you do not have to spend a lot of money on expensive cosmetics from well-known manufacturers, but you will get a good and effective result.

To remove irritation after shaving, apply a small amount of baby cream on the damaged skin and rub with light massaging movements. Do not rinse, but allow the product to completely absorb. You can use after each shave.
Ointments for irritation after shaving
If irritation after shaving appears at you constantly, despite all the preventive actions, you can use special ointments. They can be purchased at any pharmacy. The price can fluctuate, it depends on the manufacturer's reputation and active ingredients.
The most popular and proven remedy today is hydrocortisone ointment 1%. It has an excellent antiseptic effect. This ointment helps to soothe the skin, remove inflammation and redness, soothe itching and burning. But pay attention to the fact that hydrocortisone is not recommended for daily or permanent use. Skin can get used to this drug and not give positive results.
Another popular means for treating irritation on the skin after shaving is any ointment, which contains a small amount of benzene peroxide (2.5 to 5%). Such drugs are excellent at dealing with irritation and can be used even every day. But they have another, no less important disadvantage: these ointments are removed only by external causes of irritation, but do not help to get rid of the sensitivity of the skin.
Zinc ointment
The active ingredient of the zinc ointment is zinc oxide. Also in the composition you can find medical petroleum jelly. It is an antiseptic drug that also copes well with disinfection. It is distinguished by an astringent, adsorbing, drying action.
Apply to the affected area of the skin in a small amount, lightly rubbing. Use four to six times a day. Among the main side effects can be identified: allergies, flushing, rashes and itching. Do not use for individual intolerance to the components of the drug.
Powder from irritation after shaving
Sometimes it is impossible to get rid of the irritation after shaving none of the above. In this case, you will be helped by an ordinary baby powder on the basis of talc. Powder it with an area that has been damaged, and very quickly you will notice that even a long shave does not cause you any redness or pimples.
Oils from irritation after shaving
Unfortunately, sometimes cosmetic and pharmaceutical products do not cope with the irritation after shaving, especially if it appears in the bikini zone. To the process of getting rid of unnecessary hair became more pleasant and did not cause more problems, you can use ordinary essential oils. But here it is worth paying attention to what you need to buy such oils from irritation after shaving, which have a regenerating, anti-inflammatory and soothing effect.
The most popular in this case are: lavender oil, bergamot, sandalwood, tea tree, patchouli.
To apply, you need to take 4 drops of any of the above oils for 1 teaspoon of lotion or after shave cream. You can also mix them with coconut oil. Thanks to them, you can soften hair, moisturize and rejuvenate the skin, restore the lipid layer, remove irritation, get a feeling of freshness and comfort.
Coconut oil
Many girls know that coconut oil works well on the hair. But it also helps to moisturize the skin, restore it after a sunburn, remove dryness, irritation and peeling. That's why coconut oil is perfect for those who have unpleasant sensations after epilation.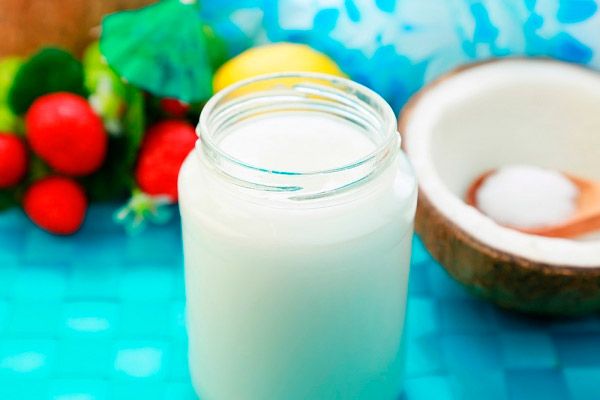 This remedy can be used without fear every day with too sensitive skin. Plus, apply a thick layer after shaving. After application, leave on the skin for a short time, and remove the rest with a plain paper towel.
Deodorants from irritation after shaving
Many manufacturers of cosmetics offer special deodorants, which are applied to irritated areas of the skin after shaving. Usually they are used to reduce redness and treat pimples in the armpits.
Such products must contain any moisturizing ingredients, as well as vitamin E. Deodorant crystal and Hemani made from potassium alum are also effective.
Alternative means for irritation after shaving
The most popular means for getting rid of irritation on the skin after shaving are home recipes.
Take one tablespoon of dry and chopped chamomile and the same dried mint. Dilute them in two glasses of water. Put on a weak fire and bring to a boil. Pour into the thermos and let it brew for two hours. Dampen with a decoction of cotton swab and wipe the place of irritation.
Take a few leaves of aloe vera and chop them with a blender. Add any vegetable oil and mix well. This cream can be rubbed into the skin of the feet after shaving to avoid irritation.
Take one teaspoon of honey, two drops of any essential oil and one tablespoon of flakes "Hercules" (ground). Mix everything with a blender, apply to the skin and massage.
[3]
Lemon juice
To remove the inflammation after shaving, you can use lemon juice. But it can be applied only to the skin of the hands and feet, since under the armpits and in the bikini zone it can only aggravate irritation. Lemon juice perfectly copes with this problem because of its antioxidants. They help protect the skin from various external stimuli.
Laundry soap
Household soap is made only from natural products: animal fat, vegetable oil and special additives that help improve the properties of the product. The most important advantage of household soap can be called the fact that it is hypoallergenic, environmentally friendly and safe for humans.
If you suffer from severe irritation on the skin after shaving, then this product will help you to say goodbye to it without problems. Applying laundry soap in this case should be so: soap the soap and rub your skin with irritation. Let the soap foam dry completely on the body, and then rinse with warm water, lightly massaging the skin.