Erection problems are not associated with condoms

х
All iLive content is medically reviewed or fact checked to ensure as much factual accuracy as possible.
We have strict sourcing guidelines and only link to reputable media sites, academic research institutions and, whenever possible, medically peer reviewed studies. Note that the numbers in parentheses ([1], [2], etc.) are clickable links to these studies.
If you feel that any of our content is inaccurate, out-of-date, or otherwise questionable, please select it and press Ctrl + Enter.
During a long experiment, a team of scientists from the United States came to the conclusion that condoms do not lead to erectile dysfunction, even if they are used constantly.
According to experts, condoms are only a means of protection, and the myths that after using them start problems with masculine health (problems with excitation impotence, etc.), can be considered an unfortunate excuse for a man unwilling to use this type of contraception.
In modern medicine and among the common people there are both positive and negative aspects of the use of condoms, however, in addition there are other arguments.
First of all, a condom is considered a good protection against unplanned pregnancy and sexually transmitted diseases.
The main drawback of this contraception was always considered problems with erection in the future, and for most men this argument was so weighty that they refused this remedy, which increased the risk of diseases of sexually transmitted diseases or unplanned paternity.
In addition, the scientists have established another interesting feature. As it turned out, a third of all participants in the study did not know how to use this remedy. Some of the young people bought condoms that did not fit them in size. This fact led in the future to problems with erection in men, and gave rise to rumors about the harm of condoms.
As explained by scientists, smaller in size or dressed incorrectly condoms disrupt blood circulation in the glans penis, which subsequently causes problems. Experts advise to avoid such troubles, always follow instructions, which, by the way, the vast majority of people ignore.
In the experiment, almost half a thousand young guys from 18 to 24 years took part.
The study found that all the problems with men's health, which were observed in almost 33% of participants, were caused by erectile dysfunction, but not by contraception.
Also, experts gave recommendations to parents of teenagers. According to experts, boys during puberty need more time to devote to sexual education, since most of the young guys who participated in the experiment, could not properly choose the size of the condom and dress it.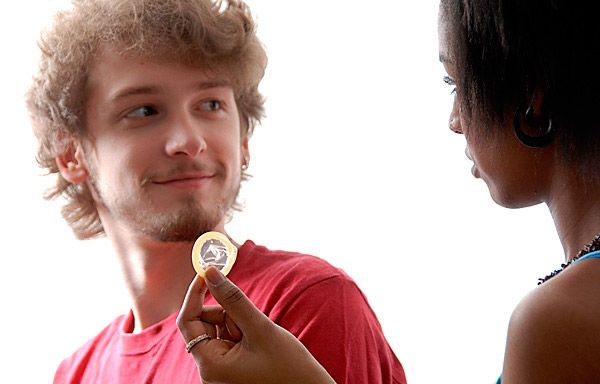 According to researchers, sexual health of men is more associated with psychological problems, so boys need to be carefully prepared for puberty, to conduct conversations, to talk about changes occurring in the body during this period, etc.
In another study by the American group of scientists, it was found that the cause of erectile dysfunction, in addition to stress, hard work, bad habits, may be the composition of food that a man uses.
As studies have shown, genetically modified additives in foods can lead to impotence, reduce the level of male hormone and negatively affect the process of stimulation.