Animal's poison can become a cure for diabetes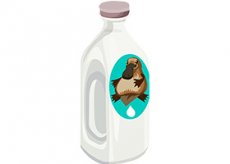 The incidence of diabetes mellitus in the world is growing rapidly, while scientists simply do not have time to create new medications for the treatment of pathology. Such recent developments as the replacement of the affected pancreas with an artificial one, or the installation of a modern pump, are recognized as too complex and practically inaccessible to most patients.
A new development of specialists is an effective and unique drug based on a poisonous substance. Such a substance is contained inside the spurs on the feet of the platypus.
Platypus is a very interesting ancient animal, which is a kind of symbol of Australia. It refers to a mammal, but is capable of secreting poison.
The platypus has electrical receptors, and the number of its chromosomes is not two, as in man, but as many as ten. Biologically, it has little from a bird, a little bit - from a reptile and a mammal. The poison released to the animal has interesting properties, which makes it possible to apply it in medicine.
Such a poison does not pose a mortal danger to humans. However, the sensations after accidental ingress of material from the spurs of the male platypus are not entirely pleasant.
Ten years ago, scientists sequenced the genome of the animal. After a while, one of the researchers, Dr. Frank Grutzner, representing the Australian University of Adelaide, applied the information obtained to create a new effective drug for the treatment of diabetes.
Some patients are prescribed such a medicine as Exenatide - this is a kind of analogue of GPP-1 prolonged action. GLP-1 is synthesized by intestinal cells and activates the production of insulin in the pancreas. Similar substances can be found in animals, including the platypus. However, there is a problem: the hormonal structure in animals is significantly different from that in humans. As explained by Dr. Grutzner, the genotype of waterfowl does not have genes responsible for the course of metabolic and digestive processes.
"Not so long ago we discovered that the structural version of the GPU of platypuses is very different from the human one. But one of the features of this substance is the increased resistance to the processes of destruction. In other words, the GPU of the platypus is able to stay inside the intestine for a long time and in a poisonous environment, and continue to fulfill its function, "the researcher explains.
Scientists suggest that this property of a substance can be successfully applied if it is introduced into the antidiabetic drug.
For further development, researchers have already allocated finance. The source of financing was Central Adelaide Local Health Network.
Experts do not deny that they will have to conduct many more experiments and research ahead of them, but the found source of GLP-1 already has great hopes. Presumably, very soon pharmacists will provide clinicians with a new drug with a prolonged and effective effect, which will be simultaneously available.
Details of the study are described on the university's website at www.adelaide.edu.au
Medical expert editor
Portnov Alexey Alexandrovich
Education: Kiev National Medical University. A.A. Bogomolets, Specialty - "General Medicine"
Other articles on the topic

Mulberry is a pretty sweet and nutritious berry, which, in spite of this, is not forbidden in diabetics. The fruits of this tree, which can be of different colors: white, pink, almost black, are a valuable source of vitamins.

Berries for diabetics are an important source of nutrients, so it is very important that on the table of patients periodically appear different useful fruits. One of these fruits is cornelian.

Diabetic berries and rowan berries are also allowed. In this case preference is given to the black-fruit berries, which has sugar-reducing properties.
The latest research relating Animal's poison can become a cure for diabetes
Many adherents of non-traditional methods of treatment advise to take apple cider vinegar in diabetic patients. Is this product useful, or is its use harmful to the health of patients?

Based on the results of large-scale experiments that were conducted in China, it was found that patients with diabetes, due to the characteristics of the disease, lose about 9 years of their life.