Sports can resist the development of glaucoma

х
All iLive content is medically reviewed or fact checked to ensure as much factual accuracy as possible.
We have strict sourcing guidelines and only link to reputable media sites, academic research institutions and, whenever possible, medically peer reviewed studies. Note that the numbers in parentheses ([1], [2], etc.) are clickable links to these studies.
If you feel that any of our content is inaccurate, out-of-date, or otherwise questionable, please select it and press Ctrl + Enter.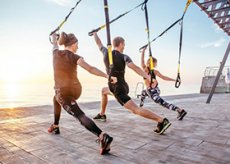 According to the results of the new study, physical activity - especially high-intensity - can reduce the risks of glaucoma development. And, as is known, glaucoma is the most frequent cause of complete loss of vision.
To prevent glaucoma experts advise regularly to engage in physical education - at least such simple activities as walking or morning jogging.
Researchers representing the University of California Los Angeles, summed up the work done, based on the evaluation of statistical data. Nationwide figures in the United States indicate that physically active people suffer from glaucoma more than 70 times less often than those who disregard exercise.
Glaucoma - a problem is quite urgent, as it is the main cause of complete loss of vision in humans. If you turn to the Russian statistics, you can find that in the country more than 1 million people suffer from glaucoma - a disease that almost does not respond to treatment.
The World Health Organization notes that four years ago almost 65 million patients with glaucoma were registered in the world, in the age range from 40 to 80 years. According to disappointing forecasts, this figure in 20 years may increase to 110 million.
According to Professor Victoria Tseng, physical activity stabilizes intraocular circulation and normalizes intraocular pressure. The researchers decided in detail to study this mechanism, based on information obtained during the National Health and Nutrition Research.
The project lasted almost five decades, beginning in 1960. It provided for an assessment of the relationship between the incidence of people and external factors. Thus, scientists analyzed the relationship between walking and the danger of glaucoma development among volunteers from 40 years and above.
The standard values were as follows: seven thousand steps every day equated to half an hour of moderate physical activity at least five days a week (this is the recommended rate for Americans).
The study showed that increasing the speed of the walking regimen by 10% reduces the likelihood of glaucoma development by 6%. Elongation of weekly exercise for 10 minutes reduces the risk of glaucoma by 25%.
"In the course of the study, we made certain conclusions. For example, to prevent glaucoma is not enough just to engage in physical education - it is desirable that the load was as intense as possible. Daily jogging, Scandinavian walking, we believe, can improve the circulation of intraocular fluid and stabilize the course of trophic processes inside the eye. Sport is a method of prevention available for all, "concludes Professor Tseng.
Even though clinical trials have not been carried out yet, one can agree that physical exercises for many of us will indeed be useful.
The results of the study were presented at the annual congress of the American Ophthalmic Academy in New Orleans. This information is also displayed on the Congress website.