The family of dolphins is replenished with a new species
American biologists, exploring the nature of the Bay of Bengal near the coast of India and the state of Bangladesh, accidentally discovered a new species of dolphins. The "new" representatives of the cetaceans externally have much in common with the widespread species of Chinese humpback dolphins and bottlenose dolphins bottlenose dolphins. Scientists compared DNA data of representatives of marine fauna and came to the conclusion that at the genetic level the listed populations have significant differences from other dolphins that live in the waters of the Pacific and Indian oceans.
World scientists note that this discovery was predictable, as the water area of the Bay of Bengal is delimited from other large and small bodies of water, and is still poorly understood. Perhaps, soon experts will be able to please the world with other new discoveries.
A few years ago, biologists were close to finding, meeting in the waters of a unique river type of shark. This shark had external features, characterizing both the inhabitant of the sea, and the freshwater creature. However, at that time, the scientists did not succeed in clarifying the features of this discovery.
"Based on the results of our studies, it becomes clear that there is a well-founded pattern between the richness of all possible dolphin populations and the unique conditions for living creatures in the waters of the Bay of Bengal. Biologically diverse and isolated from other water bodies, the sea landscape is able to favor the emergence of new species of marine fauna, "- it was this comment on the find that biologist Anna Amaral, who took part in the study, left. More information, researchers from the Museum of Natural History of Nature Protection of the United States provided in a detailed scientific work published in the periodical Conservation Genetics.
To date, science has had information about 37 species of dolphins, divided into 17 genera. However, since studies are conducted everywhere, data on the family of dolphins are constantly being supplemented. For example, not so long ago, scientists found that the level of intellectual development of dolphins significantly exceeds the human.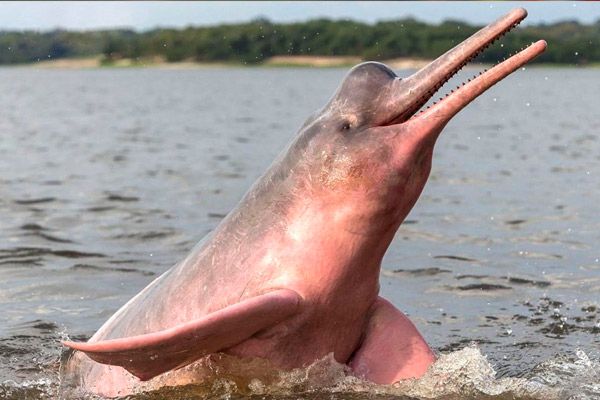 Most of the dolphins on the planet choose to inhabit tropical and subtropical latitudes. But there are also such varieties that feel great in cool waters, so they can be found closer to the Arctic. There is also a number of dolphins-universals. For example, white-fronted dolphins are often found in the waters of the North Atlantic, but they can also be seen periodically from the Turkish coast.
Such finds, like a new species of dolphins, are very important at the present time. So, if earlier these representatives of cetaceans could often be found in nature, now dolphins everywhere lose their habitat - because of unfavorable ecology, lack of conditions for reproduction, because of small amounts of food and other factors. Most of the populations of dolphins today are on the verge of extinction, and therefore are listed in the red book.