Medical expert of the article
New publications
Can block lymphogenous spread of cancer

х
All iLive content is medically reviewed or fact checked to ensure as much factual accuracy as possible.
We have strict sourcing guidelines and only link to reputable media sites, academic research institutions and, whenever possible, medically peer reviewed studies. Note that the numbers in parentheses ([1], [2], etc.) are clickable links to these studies.
If you feel that any of our content is inaccurate, out-of-date, or otherwise questionable, please select it and press Ctrl + Enter.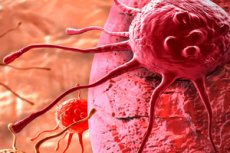 Scientists from Germany have found an antibody that attacks the lymphatic vessels in cancers in rodents. It turns out that malignant cells will not be able to spread through damaged vessels to other points in the body and form metastases there. Experts continue the research begun with the involvement of volunteers, since if it is positive, it will be possible to prevent a serious complication in the form of metastasis.
Both in healthy and in tumor structures, the circulatory and lymph circulation systems pass: immune cells are transported through the corresponding vessels. Scientists have long proven that malignant particles are able to move along the vascular network and be deposited in the form of metastases in other parts of the body. Scientists at the University of Heidelberg began to study in detail the biological mechanisms that could prevent such a spread.
"We transferred some of the tissue from the tumor directly from one rodent to another. In one case, there was a preserved natural tissue structure in which a malignant tumor could form workable lymphatic vessels connected to the general lymphatic network, which created the risk of lymphogenous spread of metastases, "said co-author of the experiment, Dr. Gengenbacher.
Experts explained that malignant cells often move through the lymph vessels: first to the lymph nodes , and then to the vital organs. Surgery to remove the maternal neoplasm helped scientists simulate a real-life situation. For a more detailed study of methods for preventing the spread of metastases, scientists began to work with the lymphatic endothelial structures lining the internal vascular cavity. Such structures provide some important vascular abilities, they produce multiple signaling molecules with growth factors. Experts have discovered that the signal peptide angiopoietin-2 is responsible for the survival of lymphatic endothelial structures in malignant neoplasms. An antibody that inhibits the signal peptide provokes lymphatic necrosis, which blocks the spread of the tumor. As a result, significantly fewer secondary neoplasms are formed in the body, and the patient's survival rate increases.
This problem is really important for modern medicine. After all, tumor spread in the form of the formation of secondary foci of cancerous growth is the main criterion for the malignancy of the neoplasm and, accordingly, the survival of patients. The size of metastases begins with one cell, and in the early stages they cannot be determined using conventional diagnostic methods. Over time, such small metastases transform into full-fledged tumors. By the way, it is metastasis in 90% of cases that leads to the death of cancer patients.
The research results are published on the pages