Application of the method of transcranial micro-polarization in patients with multiple sclerosis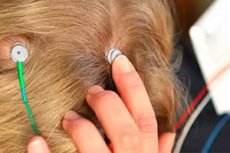 Multiple sclerosis is a complex disease, often leading a person to a disability. It is believed that this pathology can not be won. However, scientists continue to seek effective methods to alleviate painful manifestations. So, recently they introduced a new method: transcranial cerebral micropolarization (TDCS).
Since multiple sclerosis is a very, very common disease, it seems a bit strange that, with today's possibilities of medicine, there are no effective methods for treating this pathology. According to statistics, only in American medical centers, a weekly diagnosis is established on average by 200 new patients.
The disease is characterized by the inevitable increase in symptoms: gradually the patient ceases to control his own body. Among all patients with multiple sclerosis, only 20% of the disease is benign: that is, with relative safety of working capacity and sluggish course.
A new method of transcranial micro-polarization is intended to help in establishing the functions of different parts of the brain. For this, a weak direct current is used.
Scientists led by Professor Marom Bixon, representing the City School in New York, created a PC device that should alleviate the symptoms of multiple sclerosis. Clinical experiments were conducted in conjunction with the Comprehensive Center for Multiple Sclerosis (Langon Medical Center). More information about the experiment can be found in the periodical Neuromodulation. As the head of the study, Dr. Lee Charvet made a speech.
During the experiment, scientists subjected the brain structures of patients to the effect of low-amplitude direct current, using a number of electrodes localized in the necessary areas of the head hair. The current activated cortical areas, improving the conduct of impulses between nerve cells, which allowed to stimulate the processes of higher nervous activity. As a result, specialists were able to partially restore individual mechanisms, which are most often affected by multiple sclerosis - learning and memory.
The procedures were carried out on an outpatient basis, and all the processes were observed by specialists on-line. Each patient was followed for 10 sessions lasting 20 minutes, after which the evaluation of nervous activity was carried out. The experiment showed that in the majority of patients memory significantly improved, attention concentration increased, ability to adequate reaction and social communication increased. The best results were found during the testing of patients on the quality of the reaction and the ability to concentrate.
"The experiment proved that remote procedures of transcranial micropolarization under the supervision of a medical specialist can be effectively used in the therapy of multiple sclerosis. These are uncomplicated and safe sessions, which, however, significantly increase the vitality of the patients, "says Dr. Charvet.
It is important to know!
For the treatment of multiple sclerosis, drugs with anti-inflammatory and immunosuppressive action are used. The goal of immunotherapy for multiple sclerosis is to improve the outcome of exacerbations, reduce the risk of repeated exacerbations, prevent or slow the progression of the disease.
Read more..