A vaccine against most types of influenza will be available soon

х
All iLive content is medically reviewed or fact checked to ensure as much factual accuracy as possible.
We have strict sourcing guidelines and only link to reputable media sites, academic research institutions and, whenever possible, medically peer reviewed studies. Note that the numbers in parentheses ([1], [2], etc.) are clickable links to these studies.
If you feel that any of our content is inaccurate, out-of-date, or otherwise questionable, please select it and press Ctrl + Enter.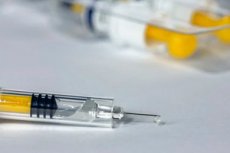 Every year, specialists have to deal with the development of new types of vaccines against influenza infection. And all due to the fact that influenza viruses mutate, mutate and quickly adapt to the drugs being administered, designed to resist the development of the disease. For several years now, scientists have been working on creating a universal "vaccine" that could create protection against the main variations of the influenza virus strains. And now, one of these developed drugs has already passed to the second stage of testing.
The majority of modern vaccines are based on the action of viral antibodies that provoke an immune response and stimulate the immune defense to suppress a viral infection. However, influenza has the ability to adapt and change within one season. This explains the need for re- vaccination before the next season.
As for the new vaccine, this drug differs in its production: mRNA molecules are used in protein coding, which is extremely similar to the conditions of real infection (without the actual infection). This provokes a powerful immune response in the body.
To date, scientists have performed a number of rodent trials and conducted a randomized study of human infection with influenza. Experts noted that the effectiveness of the created vaccine has already been recorded at around 30 weeks. In addition, even after the expiration of this term, the protection even weakens, but this continues for quite a long time. The mRNA molecules are surrounded by fatty particles to exclude their rejection until the moment when immune cells approach them.
Scientists will soon announce full-scale clinical trials involving humans.
Medical specialists note that the expected vaccine will practically establish control over the annual incidence of influenza, even if its effectiveness is 50% less than that declared by scientists. With such a drug, it will be possible to get a flu shot only once every few years and not remember the disease for a long time.
Influenza is considered a seasonal infectious disease that affects the respiratory system. The disease is characterized by a high degree of contagiousness and mortality. Influenza infection is extremely common in all countries of the world and leads to seasonal epidemics, during which hundreds of thousands of patients die every year. The transmission of infection is airborne, the upper respiratory tract acts as the entrance gate - namely, the structures of the ciliated epithelium. Vaccine prophylaxis is considered the most effective measure to prevent infection, which must be carried out before each season of influenza activity.
Information published by Nature Medicine. It can be found on the Nature page