Why do children perceive new information differently?

х
All iLive content is medically reviewed or fact checked to ensure as much factual accuracy as possible.
We have strict sourcing guidelines and only link to reputable media sites, academic research institutions and, whenever possible, medically peer reviewed studies. Note that the numbers in parentheses ([1], [2], etc.) are clickable links to these studies.
If you feel that any of our content is inaccurate, out-of-date, or otherwise questionable, please select it and press Ctrl + Enter.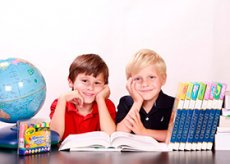 Some children easily perceive new information, while others - it is difficult. In some children, the learning process is of interest, and in others, rejection. Why is this happening?
It is generally accepted that small children learn something new for themselves by applying an exclusion method, and linking new concepts with things they do not know. Therefore, to stimulate the child to study it is necessary to give him both familiar and unfamiliar information - known terms will help the child learn what he does not know yet. But experts from the University of Wisconsin in Madison do not quite agree with this: sometimes known concepts only hinder the memorization of new ones.
The following experiment was set: children aged 3 to 4 years demonstrated a couple of illustrations. On one of them there was an image of something familiar (for example, a dog or a chair), and on the next one a completely unfamiliar object was drawn. Children were offered to point to an unfamiliar image for them - like "show here Pifo" (where Pifo is a fictitious name, implying a thing that is unfamiliar to the baby). In addition, scientists used a special device that controls the direction of the child's eyes.
By definition, looking from a familiar picture, the kid had to look at the unfamiliar - in particular, after the unfamiliar word was voiced. But this reaction was not noted in all cases. It turned out that many of the pictures familiar to the child were of special interest to him, so he did not pay attention to the new image at all.
In the second version of the study, the children were offered to look at a pair of familiar and unfamiliar objects, and, by analogy, an unfamiliar word followed. It's funny, but in this case everything depended on the interest: if the unfamiliar subject was uninteresting to the kid, then attention was not paid to him. But the familiar thing in a number of cases was much more interesting.
It should be noted that the goal of specialists was not to prove for what reasons the child is interested in an object, and another object does not interest at all. Scientists tried to determine the differences in interest - so they watched the direction of the child's view. Children do not hide their interests and will not look at anything without true motivation. Therefore, if the object does not interest them, they most likely will not even remember its name.
Perhaps, such results for many seem unexpected: after all it is believed that children always gravitate to something new and unknown. However, it is necessary to prioritize: the new is not always something that can be interesting. Therefore, in trying to teach the child a new one, one must first try to interest him.
A detailed research report is available in the Child Development - https://onlinelibrary.wiley.com/doi/abs/10.1111/cdev.13053