Statistics of purulent otitis media in adults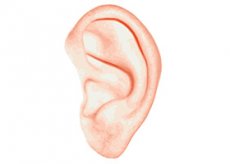 The global incidence of purulent otitis media is approximately 1-46% of the world's inhabitants. The disease is registered in the population of both developed and developing countries, an average of 65 to 330 million patients. At the same time, in 60% of patients, hearing loss of varying degrees is observed.
Every year, physicians fix more than 30 million cases of purulent otitis media. Of these, more than half are in the adult population, and about 22% are children under the age of five.
Approximately in 30 patients from 10 thousand of population purulent otitis is accompanied by a persistent decrease in the auditory function. Statistics of chronic purulent otitis with cholesteatoma is 0.01%.
The maximum incidence of purulent otitis media is observed in autumn and winter. The global number of deaths caused by complications - 28 thousand patients, with the most common dangerous complications are intracranial pathologies.
The spread of purulent otitis media in our region is defined as 8-39 cases per thousand inhabitants. Among all patients who seek help from otolaryngologists, patients with purulent otitis media make up 5-7%. Moreover, chronic purulent otitis is considered the most common disease - up to 48%. Mortality from complications in our country is from 16 to 30% of the total number of complicated purulent otitis media. The most often diagnosed are complications such as inflammation of the meninges, brain abscesses.
A high incidence of purulent otitis media is associated with frequent lesions of a viral infection, respiratory diseases. Of no less importance is the irrational use of antibiotics, the rare use of paracentesis in the treatment of acute otitis media, and especially the lack of proper attitude of patients to their health.
Medical expert editor
Portnov Alexey Alexandrovich
Education: Kiev National Medical University. A.A. Bogomolets, Specialty - "General Medicine"
Other articles on the topic

Today, inflammatory processes in the ear area are increasingly found in otolaryngological practice. There is no such person who at least once in his life would not have encountered an inflammatory process in the ear. 

Local treatment includes the use of drops - to relieve pain, to improve the yield of the pathological mass, to reduce swelling of inflamed tissues.