Spermidine - a substance that can prolong life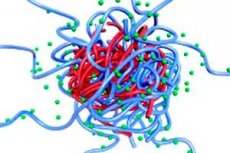 Scientists have discovered that a substance such as spermidine has the properties to prevent the development of liver cancer and prolong life. Spermidine can enter the body with food, for example, a sufficient amount of it is found in mushrooms, bran bread and molded cheese.
Initially, American scientists from the University of Texas conducted a study in mice and found that the use of spermidine in animals prevented the development of intrahepatic cancer, fibrotic changes in tissue and other liver diseases. In addition, scientists were expecting another pleasant news: mice that regularly used spermidine lived a quarter of a year longer than their relatives.
What is this amazing substance of spermidine? In fact, this is a polymer consisting of a chain of amino groups. It was first isolated from sperm, which gave the corresponding name to the substance.
In fact, spermidine is not only present in the sperm. It has been found quite a lot in lentils, soy products, untreated cereals, mushrooms, grapefruits, and especially in blue cheese, a cult product in a gourmet environment.
A little earlier it was already proved that spermidine strengthens blood vessels and stabilizes blood pressure. Now scientists have found out that this is not all the advantages of this substance.
The experiment was carried out on rodents who had a congenital predisposition to liver cancer and fibrosis. The animals were fed food containing spermidine, and observed the state of their health.
"As it was discovered, supplements with spermidine significantly reduced the risk of developing cancer or fibrotic processes, and the experimental animals lived longer than other rodents that did not receive such supplements. However, the difference in life expectancy was 25% - and this is a very large figure, especially by human standards. It turns out that instead of 75 years, a person can live a hundred years, "- the author of the study admires the result.
However, do not forget: the guinea-pigs used spermidine for the entire life period, constantly and in large quantities. If you take supplements with the substance later and in smaller volumes, then the lifespan can be increased by only 10%.
The study found that spermidine is able to reverse internal circadian rhythms in the body, "rejuvenating" them and lowering the risk of developing age-related diseases. Specialists have proved that lowering the polyamine content leads to inhibition of circadian rhythms and age-related changes. Polyamines are of great importance in biological processes, since they fundamentally affect the function of the "internal clock".
Thus, the use of spermidine can lead to modulation of the internal count in the body. Failures in circadian rhythms, in turn, can lead to a number of age-related diseases, including cancerous tumors, inflammations and even senile dementia.
In the near future, scientists plan to conduct similar studies on humans, as they are full of confidence that spermidine can improve the quality of life of people on the planet.
It is important to know!
There are indisputable proofs of the influence of food and nutrition on many of the most important biological characteristics of the organism, in particular, on the length of life, aging, and the time of optimal functioning of its physiological systems.
Read more..