Reading e-books leads to insomnia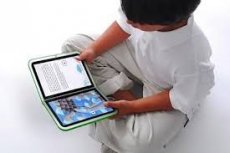 In the modern world, every day more and more people refuse from paper books in favor of electronic books. However, experts warn that this is not the best choice, since reading electronic books before going to bed leads to insomnia.
Experts at their Harvard Medical School conducted a new study on e-books. As a result, experts have established that the backlight that the device emits, worsen the quality of sleep, in addition, the person after reading takes more time to fall asleep. The participants of the experiment also noted that they feel tired in the morning.  
The problem, according to scientists, is in the backlight, if there is not, then all problems with sleep should pass. For this reason, experts do not recommend using smartphones, laptops and other gadgets before sleep. Blue light, which emits modern electronic devices, prevents the production of the hormone melatonin, which is necessary for a full and high-quality night sleep.
Twenty people settled in the laboratory for two weeks in the course of their experiment. Within five days, each of the volunteers had to read a regular book, then for another five days to read from the iPad. Scientists regularly took a blood test from participants, and it turned out that after reading the electronic version of the book in the body, the production of melatonin decreased. Participants complained of difficulties in falling asleep, superficial sleep, fatigue and frustration these days.
If there is a violation of the quality of sleep, as well as a decrease in the time that a person takes to sleep, various disturbances occur in the functioning of the body. Lack of sleep immediately affects the overall well-being, affects the work of the heart and blood vessels, provokes metabolic disorders (diabetes, obesity), as well as cancerous tumors. Especially dangerous is the lack of sleep for young people who have a habit of staying up late, and in the morning they are forced to wake up early for study or work.
As studies in one of the medical colleges have shown, disturbance of the sleep regimen leads to cell damage, especially the negative effect is observed on the cells of the lungs, liver, and small intestine. It is worth noting that these processes are reversible in nature, i.e. After the normalization of sleep, all cells are restored and the work of the organs is normalized.
In earlier studies, it was found that an inferior night rest provokes cardiovascular diseases and the development of cancer tumors. As it turned out, it is the damage to the cells that causes this relationship.
Due to the fact that DNA is able to recover, all the changes occurring during a sleep deficit are reversible.
Also in another study, devoted to a night's sleep, it was found that lovers go to bed later often pursue bad thoughts. People who prefer to stay up late and sleep less often are more worried, focus on one thing, are prone to thinking
Experts warn that it is compliance with sleep that is a guarantee of strong mental and physical health.
Medical expert editor
Portnov Alexey Alexandrovich
Education: Kiev National Medical University. A.A. Bogomolets, Specialty - "General Medicine"
Other articles on the topic

Insomnia is an actual problem for today, faced by both adults and children. Consider effective methods for fast falling asleep.

Only after a good sleep, we can feel cheerful in the morning and keep working throughout the day. But how to be, if insomnia with menopause does not allow to fully relax?

Can insomnia be associated with pregnancy? Is there insomnia during pregnancy? And if so, what is insomnia in pregnancy - the norm or pathology? Is it necessary to treat this phenomenon? There are a lot of questions related to sleep disorders during child bearing. Let's try to understand this question.
The latest research relating Reading e-books leads to insomnia

Those people who have defined their vital meaning sleep better than others, and less often suffer from insomnia - so say the scientists.

Anxious or inadequate sleep, as well as insomnia, can eventually cause acute coronary insufficiency - experts at the China University of Medicine in Shenyang warn about this.