New healing glue tightens wounds for a minute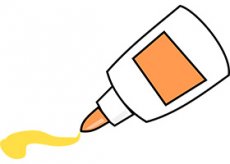 Scientists created a special glue, capable of gluing the edges of the wound, thereby significantly accelerating the healing process.
Medical surgical adhesive MeTro possesses increased elasticity and in a flash of an eye fills the wound: thus, there is no need for suturing, including postoperative ones. New glue will help rebuild the entire mechanism of surgical intervention.
 
Tests created by the drug were led by experts from the Australian University of Sydney.
Adhesive is composed mainly of proteins, which under the influence of ultraviolet radiation are transformed into an elastic and very strong material. When such material is introduced into the wound cavity, the adhesive components seal the tissues tightly during the first minute. Subsequently, the biological mass gradually dissolves, restoring the integrity of the damaged area.
 
Experts suggest that over time, a new adhesive will allow to abandon the application of stitches and surgical staples from metal - the invariable attributes of any surgical intervention. Among other things, glue will definitely be irreplaceable in providing emergency medical care to patients with injuries and injuries.
 
Adhesive mass of MeTro was very elastic, so its consistency is optimal to connect damaged tissue in areas with constant movement - for example, in the lungs, heart muscle, vessels. In addition, it is convenient to use the agent for the healing of tissues located in hard-to-reach places.
 
An additional unique characteristic of the adhesive is that it is possible to "prescribe" the duration of its resorption in tissues in advance, because the body needs different time to heal the wound. For example, the material can dissolve over a period of several hours or several months.
 
Experts have already conducted test tests of the drug in animals with injuries of lung tissue, internal organs, with damage to arterial vessels. Experimental animals were laboratory pigs, and the tests themselves were more than successful.
 
Scientists say: the features of the structure of the affected tissues and the attachment of infection largely determine the quality and speed of recovery. Weakly structured and functionally differentiated tissues (for example, the brain, parenchyma) are weakly refractory, unlike connective tissue and integumentary epithelium. 
The quality and speed of wound healing depend, both on local intrathecal conditions, and on the general condition of the body. And the influence of local conditions - the size of the damage, its degree, the presence of dead tissue, the presence of pathogenic microorganisms, the location of the wound site, the state of circulation and trophism - can largely be neutralized using a new wound healing adhesive.
The results of tests of the innovative tool are published on the pages of Science Translational Medicine and on the site http://stm.sciencemag.org/.
It is important to know!
When falling with sliding or rubbing against uneven surfaces, abrasions occur - damage to the upper layers of the skin.
Read more..