х
All iLive content is medically reviewed or fact checked to ensure as much factual accuracy as possible.
We have strict sourcing guidelines and only link to reputable media sites, academic research institutions and, whenever possible, medically peer reviewed studies. Note that the numbers in parentheses ([1], [2], etc.) are clickable links to these studies.
If you feel that any of our content is inaccurate, out-of-date, or otherwise questionable, please select it and press Ctrl + Enter.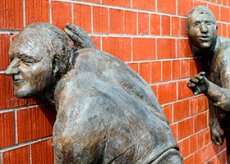 It is generally accepted that praise or condemnation "behind" is a predominantly female "occupation." But it turned out that men love to gossip and discuss people "behind the eyes" no less.
Indeed, there has always been an opinion that gossip is the lot of women and the elderly (in particular, old women). Scientists representing the University of California, Riverside, have denied this myth and have proven that even young men love to gossip.
The study of specialists involved hundreds of women and men in the middle age category 18-58 years. Each participant was equipped with a portable sound recording device that recorded sounds - but not all. As a rule, fragments of dialogue of the carrier with other people were recorded. The recorded information was further studied on the degree of "gossip": by the term "gossip" the scientists meant any conversation during which an outsider who was absent from the dialogue was mentioned. Moreover, it did not matter, as they said about this person - good, bad, or neutral.
Upon completion of the study, scientists were able to identify more than four thousand gossip. They were divided into categories, highlighting those where it was about famous people, or about little-known personalities. Separately, the main topics of gossip were identified, as well as the gender and age of the "gossip".
As a result, it turned out: in general, people do not spend so much time on gossiping - about 14% of all conversations. Most of all, there was a neutral discussion of acquaintances, followed by bad statements, and only in the last place - positive ones. Thus, gossipers are less likely to praise someone, more often condemn or just mention in conversation.
People pay a considerable share of attention to celebrities, but they still discuss acquaintances more often - by as much as nine times.
And one more observation: introverts gossip much less often than extroverts.
It is interesting, but representatives of all ages like to talk about friends and strangers. Young participants in the experiment participated in gossip as actively as the elderly. True, the difference was that more negative information came from young people. Exactly the same, no significant differences were found in social and status terms: people gossiped in equal numbers, regardless of social status and level of education.
As for the gender difference, both women and men "spread gossip" in approximately the same way. True, a bit more negative came from the female side. Men more often expressed either slightly disapproving, or neutral, or positively.
The study was part of the study of evolutionary psychology. Scientists believe gossip is an important tool that plays a big role in building a reputation in the community and in supporting the spread of indirect reciprocity.
Information is presented on the website journals.sagepub.com/doi/abs/10.1177/1948550619837000?journalCode=sppa