How to avoid New Year binge eating: practical advice
Even if you are a lucky owner of iron willpower and know how to control your appetite, New Year's holidays can become too much temptation for you, and refraining from using all sorts of goodies is too difficult a task. But if after the holidays New Year's decorations and garlands hide in a box, the extra pounds that have settled on the waist will be difficult to hide, and getting rid of them is even more difficult.
Nutritionist and author of numerous books about nutrition Eliza Zid says that there is a way out of this situation. A slender figure and New Year's holidays can quite get along together, if you follow some simple rules.
Weighing
To get on the scale during the holidays is a necessary measure if you want to keep your figure. This way you can control your weight gain.
Start the day actively
According to studies by scientists from the University of Louisiana, women who started their day early and actively, not only felt great all day, but also showed less emotion when demonstrating a photo depicting tasty foods. Therefore, start your day early and with a cheerful charge, and then you can reduce cravings for foods high in fat.
Be choosy
Even if there are a lot of tasty dishes on the table, choose only those that you really want to eat. If you put a little everything into the plate for the sake of trying everything at once, it will lead to overeating and will only add extra pounds.
Nurture will power
Learn to deny yourself and educate yourself in yourself. Imagine that you are trapped in a cork and you will have to stand for several hours. Naturally, you will be nervous, but you can pull yourself together and temper your temperament. Approximately the same can be said about food, because there are situations that require self-control and endurance.
Avoid evening overeating
This is true every day, and even more so on holidays, where we let our stomach run to its fullest. Do not neglect breakfast and lunch, waiting for an evening feast. If you do not eat all day, and catch up in the evening, but all efforts to maintain harmony will go wrong.
Do not forget about training
It's easy to say, but it's harder to do. For sure, training in the gym will be abandoned - anyone who wants to work on the eve of the holidays. Nevertheless, remember, while you rest and do not practice, do not neglect at least walking. 15 minutes a day will be enough to maintain your physical shape.
Carefully chew food
Chew everything slowly and carefully, so you can quickly feel the saturation, which is always a bit late, because people have enough to feed themselves with all sorts of dishes.
Alcoholic beverages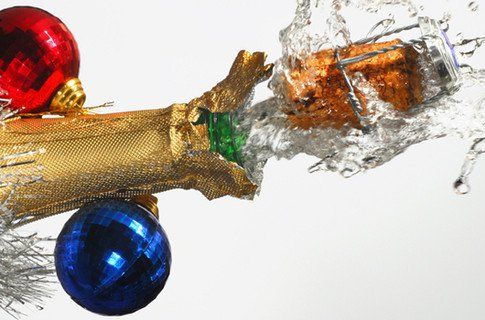 Few people dispense on holidays without alcohol, but strong drinks can reduce self-control, which is fraught with fluid retention in the body, swelling, and overeating.
It is important to know!
Valuable nutritional products that improve the functioning of the cardiovascular system, contribute to weight loss, prevent Alzheimer's disease and oncological pathologies are nuts.
Read more..