Doctors called the simplest exercise for burning fat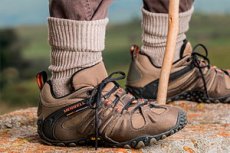 It is known that the main conditions for losing weight are two things: less to eat and more to move. Scientists say: the most optimal exercise for losing weight is the usual walking.
Walking is a natural motor activity of a person. In ordinary life, a person without even noticing it can easily overcome from one to ten kilometers daily, even without going outside the home. However, many are interested in the question: how many kilometers do you need to go through, and how to do it in order to lose weight?
It does not matter where a person goes - for shopping or for work - while walking, he burns a certain amount of energy. If the walk is unhurried, with frequent stops - then spend a much smaller amount of calories. Walking uphill, on stairs or over viscous snow leads to a waste of much more energy.
So, it is estimated that a slow, quiet walk allows you to stand out about 180 kcal / h. Walking along the sandy beach in an average tempo will "pour" into the cost of 450 kcal / h. Fast walking on rough terrain will allow to "burn" from 450 to 550 kcal / hour. Lifting the stairs for an hour will "eat" from 550 to 750 kcal. The proposed indicators are designed for a normal adult with an average body weight. Therefore, it is necessary to take into account: if the body mass is large, then the expenditure of calories will be more noticeable.
In addition, you can spend even more calories, if walking actively waving hands, or carry heavy bags or a backpack.
If you decide to go for walks for weight loss, then you should stock up on comfortable shoes and clothes. Excellent fit sneakers and clothes that do not restrain movements. No need to immediately "start" at maximum speed. Optimal to overcome 1 km for ten minutes, gradually increasing the tempo.
While walking, watch your posture to avoid overloading the spinal column. For this, it is also recommended to step first on the heel, rolling on the toe.
In order to make sure that you have chosen the right intensity of walking, pay attention to breathing more often. Experts believe that it is optimal if a person during a walk can normally conduct a conversation, but it will be difficult to sing to him, because of the inconsistency of breathing. Breathing is recommended by the nose, not allowing the appearance of shortness of breath.
Before and after a walk, it is advisable to drink at least 200 ml of clean water, and it is also advisable to take water with you, gradually sipping with small sips while walking.
Dress in the weather. If you feel that you are frozen or overheated, then it's better to stop walking and change clothes.
If there is shortness of breath, pain, or other unpleasant sensations during walking, then stop and sit down. If you feel unwell, do not bother.
What else you should not do is eat while you walk. Is your goal to lose weight? Do not forget about it.
Medical expert editor
Portnov Alexey Alexandrovich
Education: Kiev National Medical University. A.A. Bogomolets, Specialty - "General Medicine"
Other articles on the topic

Excess weight has become a real scourge in the modern world, it affects more than one and a half billion inhabitants of the planet.

Who among us did not try to turn the plastic hoop of a house in front of a mirror when he was a child, presenting himself as a famous gymnast, or did not play with him during physical education classes at school? This popular sports equipment can be found at many houses and now.

Excess weight is the problem of a third of the world's population. People try to get rid of extra pounds in various ways, trying to bring their body to the ideal proportions.
The latest research relating Doctors called the simplest exercise for burning fat

People who are trying to lose weight, first of all, turn their attention to the choice of diet: there are effective diets, and there are not very. 
Leading specialist in the immunological and gastroenterological area Eran Elinav, representing the Israel Research University Weizmann, proposes to regularly measure the glucose content in the blood for weight loss. The analysis will help determine the degree of reaction of the body to the use of certain products.