The climate "shakes": what will it lead to?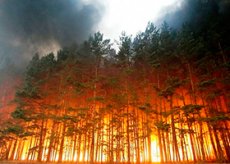 Scientists are worried: extreme climatic events are happening more and more, and the damage from such disasters as floods, hurricane winds and droughts, more and more. Thus climatologists warn: in the future everything will only get worse.
The increase in the number and frequency of extreme climatic phenomena is a kind of phenomenon that experts call a "loosening up" of the climate. As calculated by scientists, over the past six years, the frequency of weather events has increased by more than 45%. Over the past year climatologists have recorded almost 8 hundred of these phenomena. At the same time, the financial damage caused by the weather was not less than 129 billion dollars, and this is neither much nor little - the state budget of a country like Finland.
The second important aspect is the negative impact on people's health. Thus, climatic changes lead to the development of epidemics, to an increase in air pollution, to a decrease in the working capacity of the population.
"The impact of extreme climate on people can be clearly traced, and, unfortunately, is an irreversible process," the researchers say - representatives of 24 scientific groups from various institutions, as well as from the World Bank and WHO.
The elderly suffer more than others, with weak immunity and a large number of chronic diseases. Over the past sixteen years, agricultural activities in India and Brazil have declined by more than 5%. This is due to the strong warming of the climate in these regions.
When describing the impact on human health, scientists note that the climatic upheavals led to massive epidemics of Dengue fever. Every year, doctors fix this type of fever in 100 million patients.
As a separate aspect, hunger is considered. The number of hungry in the Asian and African countries in 26 years increased by 24 million people. "Lack of the necessary amount of food is also a consequence of climate change in the 21st century," the scientists indicate in their report.
A positive moment in this situation, experts found that the level of mortality from weather events in recent years has not changed. This may mean that people are more or less able to cope with spontaneous phenomena.
The author of the study, Nick Watss, noted: "There is a hope that an increase in the average annual temperature will lead to certain positive consequences. For example, the risk of mortality from hypothermia in countries closer to the north is reduced.
Immediately before the report of scientists, the report of the World Organization of Meteorologists was made public. According to the report, last year the atmospheric content of CO 2 exceeded 403 million shares, which was half more than the average figure for the last ten years. Scientists noted that in the last 800 thousand years this value was less than 280 million shares.
A full report on the study is available in the Lancet.