In China, will stop the construction of thermal power plants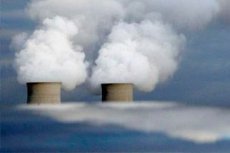 In China, the government has decided to suspend the construction of new thermal power plants, coal-fired plants. In addition, it will stop the construction of the thermal power plants have already obtained permission for construction. Pre-ban will be in effect until 2018, but, quite possibly, the authorities decide to extend it. Such measures have become a necessity, as the country has a relatively high level of pollution.
In China, the exceeded limit values of emissions into the atmosphere, air quality is very poor, which is why every day across the country thousands of people die. Its intention to improve the ecological situation in the country, Chinese officials have presented in the form of directives. Earlier, the authorities decided to close thousands of coal mines in the country, which was officially announced and the decision to suspend the construction of new power plants, is the next step to improve the environmental situation. The new regulation will affect 200 power plants, including those who are at the stage of obtaining permits for construction and those already approved but not yet started to build.
Coal-fired power plant, which was planned to build, could produce more than 100 gigawatts of power every year. To date, China consumed more than 5 billion tons of coal (more than in any other country).  
More recently, the authorities intend to increase the production of coal energy, but after the Paris meeting officials decided to change the strategy. At a meeting in France was attended by representatives from 170 countries, which in the discussions have signed an agreement to reduce the amount of harmful emissions and switch to renewable energy. At the meeting, Chinese officials said that in 4 years the country will refuse the use of coal.
Undoubtedly, China is now the largest source of emissions, and it is expected that in 15 years the level of emissions in the country will reach its peak.
Construction of new power plants near large cities has been suspended as a result of the restrictions and the economic crisis, as a result of wind and solar power have gained more investment, which, in turn, influenced the decrease in coal consumption in the country. But a spokesman for Greenpeace, Mr. Milivirta, despite the fact that coal has lost its popularity in China, the major energy companies continue to design and build a coal-fired power plant, with an accelerated pace. Milivirt also noted that all the authorities decided not to touch the plants, the construction of which has already begun. According to some sources, the new power plant will produce about 200 gigawatt capacity.  
No new coal-fired power plants, without doubt, a positive step, but not enough to significantly influence the situation in the country, which is every day becoming worse.
The latest research relating В Китае прекратят стройку теплоэлектростанций
In the near future, a new parabolic plate-type reflector can appear, which is able to amplify the radiation of the sun 2000 times