Bacteria can help cure poisoning

х
All iLive content is medically reviewed or fact checked to ensure as much factual accuracy as possible.
We have strict sourcing guidelines and only link to reputable media sites, academic research institutions and, whenever possible, medically peer reviewed studies. Note that the numbers in parentheses ([1], [2], etc.) are clickable links to these studies.
If you feel that any of our content is inaccurate, out-of-date, or otherwise questionable, please select it and press Ctrl + Enter.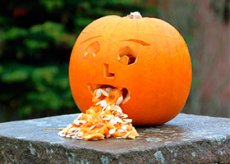 Food poisoning: this diagnosis is familiar to many people. Probably each of us at least once in his life experienced this unpleasant state. But some forms of microorganisms can provoke a rather serious intestinal disorder, not limited to ordinary diarrhea. It is no secret that some diseases in medicine are cured according to the principle "we treat similar with similar". This technique will soon be applied in relation to food toxic infections.
A group of specialists from Stanford University (United States) under the leadership of Dr. Denis Monak discovered the existence of propionate, an auxiliary metabolic product, which is formed as a result of the vital activity of a type of intestinal microbes. Propionate has the ability to inhibit the development of salmonella (the causative agent of the well-known salmonellosis).
What else is known about propionate? This substance is produced by gram-negative rod-shaped anaerobes, which belong to the family of bacteroids. These microbes are part of the normal human intestinal microflora.
"We can observe different reactions to the development of a bacterial infection in different people. In some patients, the poisoning manifests itself in a stormy clinical picture and requires inpatient treatment, while in others it proceeds almost imperceptibly. We set ourselves the task of understanding why this is happening, "the researchers explain. "The intestinal microbiome is a very complex mechanism involving billions of representatives of the microbial, viral, and fungal flora. They closely interact with each other, and it is often almost impossible to isolate individual molecules from other "inhabitants" of the intestinal space. "
Scientists analyzed the effect of propionate on the bacterial flora, namely, on Salmonella. It was found that this substance affects the quality of the pH of the medium inside the bacterial cell: as a result, the cell takes much longer to begin to grow and multiply. With a high concentration of propionate in the intestinal cavity, microbes lose their ability to increase their intracellular pH, which complicates their functionality. This leads to the death of a huge number of Salmonella.
"The information that we received, thanks to research, will bring considerable benefits in the fight against infectious intoxication and infection. Perhaps, adjustments will be made to the treatment of such diseases. At present, with food toxicoinfections, antibiotics become the drugs of choice. However, we all know about the disadvantages of antibiotic therapy, and this is not only a mass of adverse events, but also the development of resistance of many bacterial strains, which is really a problem. Now, in many cases, antibiotics can be abandoned, "scientists say.
Information published on the website hi-news.ru
[1], [2]