Artificial Intelligence is able to recognize depression.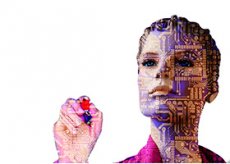 Why is it so difficult to recognize depression, especially in the early stages? Are there any methods to optimize diagnostics? Such questions are set by the scientists.
Before voicing the diagnosis of " depression ", the medical specialist must do a difficult job: collect all possible data about the patient, present a complete picture of the pathology, analyze the characteristics of personality formation and the person's lifestyle, follow any possible symptoms, find out the causes that could indirectly affect development of a painful condition. Scientists representing the Massachusetts Institute of Technology have designed a model that can detect depression in a person without posing specific test questions, based only on conversational features and a written style.
As one of the leaders of the research project, Tuki Alhanai, explains, the first "bell" about the presence of depression can be heard during a conversation with a patient, regardless of the person's emotional state at a given time. In order to expand the model of diagnosis, it is necessary to minimize the number of restrictions applied to information: all that is required is to conduct an ordinary conversation, allowing the model to evaluate the patient's state during a natural conversation.
Experts called the created model "out of context", due to the absence of any restrictions in the questions asked or heard answers. Using the method of sequential modeling, the researchers sent models of text and sound versions of conversations with patients suffering from and not suffering from depressive disorders. In the course of the accumulation of sequences, laws came to the surface — for example, the standard inclusion of such words as "sad", "fall" in the conversation, and also auditory monotonic signals.
"The model distinguishes verbal consistency and evaluates recognized patterns in the form of the most possible present factors in patients suffering from and not suffering from depression," explains Professor Alkhanai. "Further, if artificial intelligence notices similar sequences in the following patients, then on the basis of this he is able to diagnose a depressive state in them."
Test trials demonstrated successful diagnosis of depression in 77% of cases. This is the best result, which was recorded among all previously tested models that "worked" with clearly structured tests and questionnaires.
Do the experts suggest using artificial intelligence in practice? Will he be in the base of subsequent models of "smart" assistants? On this account, scientists have not yet expressed their views.
Information about the study is published on the website of the Massachusetts Institute of Technology. Also it can be found in detail on the pages.http://groups.csail.mit.edu/sls/publications/2018/Alhanai_Interspeech-2018.pdf
It is important to know!
In this state there is a regression of motives and hypokinesia (a sedentary lifestyle), and besides this the patient develops a subjective feeling of helplessness and constant fatigue.
Read more..