Americans against marriage?

х
All iLive content is medically reviewed or fact checked to ensure as much factual accuracy as possible.
We have strict sourcing guidelines and only link to reputable media sites, academic research institutions and, whenever possible, medically peer reviewed studies. Note that the numbers in parentheses ([1], [2], etc.) are clickable links to these studies.
If you feel that any of our content is inaccurate, out-of-date, or otherwise questionable, please select it and press Ctrl + Enter.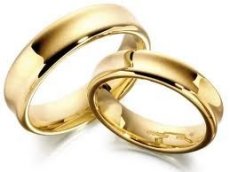 According to a new report published by Pew Research, the percentage of adult Americans who are married is today the lowest ever than in US history.
Modern Americans have become less likely to marry or to do so at a later age. Currently, the average age of marriage in the United States is 26.5 years for women and 28.7 years for men.
In their study, scientists D'Vera Kohn, Jeffrey Passel and Wendy Wang collected data from the US population census.
The institution of marriage is gradually inferior to the following types of cohabitation:
Civil marriage.
Lonely living.
Incomplete families (with one parent).
Young people continue to stay with their parents longer (in part because of the current economic crisis).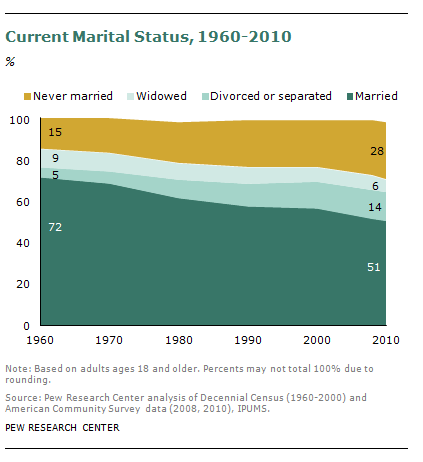 In just one year (2010), the total number of weddings in America fell by 5%. The authors of the report said that such figures may be related to the current economic crisis.
Decrease in marriage not only for the US
In most other developed countries, there is also a decrease in the number of marriages. Interestingly, the percentage of adults who are married falls every year with the same speed, regardless of whether these were periods of economic boom or depression.
In the US, steep fall in marriages were seen among young adults - today only 20% of Americans between the ages of 18 and 29 are married, in 1960 this figure was almost three times higher (59%). The average adult who marries today does this six years later than fifty years ago.
Today, 72% of adults have been married one or more times, compared to 85% fifty years ago.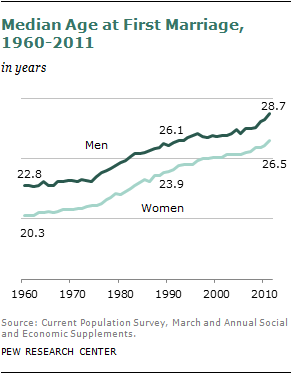 What is the current attitude towards marriage?
Today, almost 40% of the US adult population say that marriage is becoming an archaic institution. However, the authors report that in 2010, approximately 61% of adults who were never married would like to marry.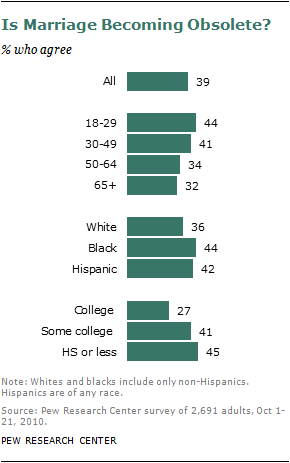 The decline in the tendency to marry was slower among people with higher education, compared with less educated people. One of the reasons for a late marriage may be a much higher percentage of adults who are in college, and who postpone marriage for a time until they complete the training.
Interestingly, the number of divorces remains fairly stable over the past twenty years, while the number of marriages continues to decline.