Women need to give birth after 40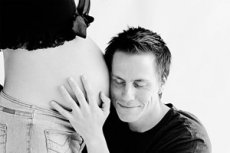 Demography of Germany and the UK experts said women over 40 give birth to healthier children than younger women. The results of their research experts published in one of the well-known scientific journals, and a summary of the study published on the website Society. Max Planck (Germany).
The researchers noticed that the children who were born more mature mothers, healthier and better educated. According to scientists, a richer life experience of women, their financial condition allows the child the best possible future. But here it is worth noting that the German experts made the conclusion more suited to Western society. Now a few conducted in this area of research have shown that late childbirth are associated with an increased risk for both mother and child. Children born to parents after 40 years, more likely to suffer from Alzheimer's disease, diabetes, high blood pressure. But, according to demographers, these risks can not be taken into account on the background of the achievements of modern medicine and quality of education in western universities.
According to some reports, in health care on average once every 10 years there is a powerful leap forward, which improves the quality of life of people. It bears repeating that these statements are characteristic of Western countries and only when it can be taken into account, daring to have a child after 40 years.
Scientists have explained the course of his thoughts in such a way that a woman born in 1950, who became a mother at age 40 (in 1990) and not in 20 years (in 1970), would be able to give your child a high-quality health care and education, as medicine and education in 90 years is significantly different from the level that was in the '70s.
In their studies, the researchers analyzed data for about 2 million people born from 60 th to 91 th of the last century. All information has been collected in order to determine the possible relationship between mental capabilities of children and parents' physical and biological data (height, weight, age). As a result, it was found that children "late parents" often acted in higher education and better studied, compared with children whose parents were younger. The scientists also noted that this trend is especially visible on the example of brothers or sisters who were born with a difference of more than 10 years.
If we believe the results of another study, women who have not given birth to 30 years, more likely to develop breast cancer . According to the researchers, women 20 to 30 years has a strong impact female sex hormone, which is considered to be an agent provocateur of breast cancer. During pregnancy, levels of this hormone significantly reduced in the female body that is protected against the development of cancer, so scientists do not advise women to postpone the birth of first child at a later date. According to experts, in recent years, breast cancer has become increasingly apparent in young women 30 - 34 years, which is likely due to the fact that women today are in no hurry to motherhood.
Other articles on the topic
Need I say that birth pain is the prerogative of women, men are only aware of them from pictures, videos or horror stories

Thanks to the introduction of innovative methods of diagnosis, birth in Israel is carried out by a natural physiological way, but under the vigilant control of high-tech equipment and qualified specialists.

Pain before delivery is a precursor to the onset of labor. It is believed that pain in the process of childbirth is inevitable, accompanying every appearance of a new inhabitant of the planet.
The latest research relating Женщинам нужно рожать после 40