Why not use gadgets in front of children?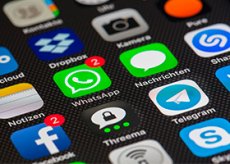 The behavior of the child can change for the worse, if parents actively use a smartphone in their presence, constantly watch TV, etc. It is especially important not to use gadgets during a joint meal, with family games or on the background of the preparations for bed. Such conclusions were shared by the University of Michigan staff in the pages of the publication Pediatric Research.
The systematic use of electronic devices negatively affects the adequate and real human communication. In the United States, there is even a corresponding term "technoference", which stands for technological intervention.
Not so long ago, scientists conducted a study that demonstrated the following: parents use smartphones, laptops, tablets and TVs for about 8-10 hours daily. The third part of this time is given to smartphones (most likely, because of their portability and functionality). Dads and moms do not take their eyes off the phone while eating, on a walk with the baby, and also at any opportunity. At the same time there is an active formation of the concept of the baby about socialization and emotional sphere. According to scientists, constant "sitting in the phone" leads to the fact that communication with their children becomes more rare, and conversations are more aggressive (after all, children are distracted by their attempts to attract the attention of adults).
The study involved 337 adults with children under the age of five. The adult participants filled out the questionnaire, which they had submitted, where they indicated the data on the relations within the family, about the upbringing of the child. Parents were to note how many times a day they communicated with children, how many times they were denied them in communication because of the employment of the gadget. They also should assess the behavior of children, indicating the degree of their vulnerability, the frequency of bad moods and attacks of anger, etc. In addition, parents were asked to analyze their own level of stress resistance and propensity to develop depressive states, determine how often smartphones and other gadgets use the children themselves.
Having carefully studied the information received during the survey, the experts made the following conclusions: various technical devices help adults to minimize the stress received throughout the day, as well as the poor behavior of their children. But there were also significant problems: the technique did not allow adults to communicate normally within the family, which led to an even worse deterioration in relationships with children. The child of parents, constantly engaged in gadgets, is more prone to hysterics and depressive states. As a result - moms and dads even more immersed in the network, there is a kind of circular cyclicality.
Experts are sure: the systematic use of smartphones, computers and TV sets negatively affects both parents and the child. According to statistics, even one such device can interfere with the normal pastime of parents with children.
Information is available at https://www.nature.com/articles/s41390-018-0052-6