What is the benefit of honey manuka?

х
All iLive content is medically reviewed or fact checked to ensure as much factual accuracy as possible.
We have strict sourcing guidelines and only link to reputable media sites, academic research institutions and, whenever possible, medically peer reviewed studies. Note that the numbers in parentheses ([1], [2], etc.) are clickable links to these studies.
If you feel that any of our content is inaccurate, out-of-date, or otherwise questionable, please select it and press Ctrl + Enter.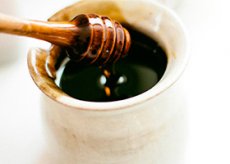 Regular bee honey is an extremely healthy product. What do you know about manuka honey? Scientists have discovered that this kind of bee sweet is especially beneficial.
Even small amounts of manuka honey can block the development of pathogenic bacteria and stop the formation of microbial walls. This was stated by scientific representatives of the University of Southampton.
Manuka honey is brought from New Zealand - it is a local beekeeping product that insects make from the pollen of flowers growing on a manuka tree. The tree has a lush crown with lots of pinkish and white flowers. Honey is used both for treatment and simply for food: it can be used inside and out.
The Europeans discovered the therapeutic and preventive abilities of manuka in the 19th century: they noticed that the peculiar New Zealand honey is more saturated and thick, in contrast to the varieties known to us. This is due to the large amount of methylglyoxal in the product. This is a powerful antimicrobial substance that inhibits the development of bacteria.
A recent study by scientists concerned the use of honey manuka during the placement of a catheter of the bladder. As was noted, even extremely small amounts of such honey allowed literally exterminating the vast majority of microbes, which reduced the risk of infection of the urinary system during catheterization.
All doctors know that with prolonged catheterization of the bladder, various infectious complications can occur. The plastic surface of the catheter is covered with bacterial plaque, which is difficult to remove. It is interesting, but even with a strong dilution, honey manuka did its job perfectly: no side effects and negative consequences for patients were noted.
Specialists from the UK have tried the action of honey in relation to the cultures of Escherichia coli and Proteus mirabilis. These microorganisms most often provoke the appearance of so-called "catheter" infections of the urinary system. Honey was diluted with water to obtain a 3.3%, 6.6%, 10%, 13.3% and 16.7% solution.
According to the results, scientists found that the weakest honey solution lowered the adhesive ability of microbes, disrupted the formation of bacterial plaque and greatly reduced the number of pathogens.
The experiment was carried out in an ideal laboratory environment, and scientists expressed confidence that manuka honey will be able to find worthy application in practical medicine.
"Catheter complications are noted very often, so this problem has long required a high-quality solution. We believe that manuka honey will significantly reduce the percentage of urinary tract infections. Perhaps in the future this product will also please us with other useful properties, "the authors of the scientific project note.
Information is published on the Journal of Clinical Pathology website.