Tuberculosis in Ukraine: real numbers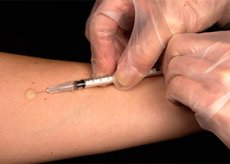 According to the most recent statistical information, the largest indicative values characterizing the incidence of the immunodeficiency virus and tuberculosis were recorded in the Odessa region. Representatives of the press service of the Central Health Care Center (Center for Public Health of Ukraine) said about this trend.
According to data for 2017, the incidence of tuberculosis, taking into account newly discovered and repeated cases of pathology in the territory of Ukraine, amounted to almost 64 cases per hundred thousand people. More than 21 thousand cases of tuberculosis infection have been recorded. At the same time, the study of exponential values in the Donetsk and Lugansk region was not carried out fully, but only on the territory where it could in principle be done - that is, in the zones that are controlled by the Ukrainian government. Over the past year, a tendency to an increase in the incidence rate has been found in the Chernivtsi and Donetsk regions.
Further, the statistics states that over the past few years there has been an increase in the incidence among males: thus, men are ill about 2 times more often than women. By the way, men have always infected with tuberculosis more often than women, but these figures periodically changed. Representatives of the department do not indicate the age trend.
The World Health Organization confirms: tuberculosis is among the ten leading causes of death among all patients on the planet. For example, during 2016, the disease led to the death of more than 1.6 million people. According to Ukrainian statistics, people with tuberculosis not recorded by doctors can account for 25% of all patients with this diagnosis. One of the four patients with this disease is either not sufficiently examined or hides the presence of a dangerous pathology. To date, dispensary registration of almost 35 thousand Ukrainians has been carried out: among them, about 8 thousand patients suffer from drug-resistant tuberculosis.
World statistics ranks Ukraine among the top five global countries with the highest percentage of drug-resistant forms of the disease. Representatives of the Ministry of Health claim that the tuberculosis situation in the country is serious, but can be controlled. The prognosis is worsened by the fact that the disease is most often diagnosed already at the finishing stage, when the patient's chances for recovery are close to "zero." Every year, tuberculosis takes the lives of four thousand Ukrainians - that is, about 10-11 patients a day. In the world, over one million people die from this disease every year.
It has been 25 years since the World Health Organization ranked tuberculosis on a global scale. However, this task still remains without a definite solution.
Information published on page https://newsone.ua/news/zdorove/v-voz-rasskazali-skolko-ukraintsev-boleet-tuberkulezom.html
It is important to know!
Surgical methods of research in phthisiology - various invasive manipulations or "small" operations with the use of special surgical instruments, equipment and diagnostic equipment.
Read more..