Scientists know how to make lung cancer prevention more effective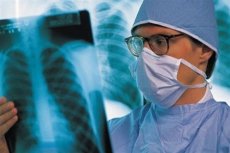 Testing drugs for the prevention of lung cancer takes a considerable amount of time. The results have to wait five, ten or even fifteen years. Unfortunately, at the moment there is no way to quickly identify the effectiveness of a given medicine. Researchers at the University of Colorado Cancer Center in Denver suggest new ways of testing drugs that could significantly reduce not only the time required for testing, but also reduce the number of patients who are involved in the tests.
Experts say that chemoprophylaxis (the intake of specific anti-tuberculosis drugs by healthy people who are at particular risk of developing tuberculosis, to prevent their disease) is an important approach in the prevention of lung cancer.
"If we could find a surrogate (intermediate) end point of mortality from such a terrible disease as lung cancer, it would be much easier to conduct tests, and significantly reduce the timing of their conduct," says lead author of the study, Professor Fred Hirsch.
The initial goal of the study was to detect specific microRNAs, the level of which can predict whether the patient's body will respond to chemoprophylactic drugs. Depending on the level of microRNA expression detected by specialists, a further study will be constructed in this way: scientists will be able to test the drug only on those patients whose result will be the most potentially successful. MicroRNAs are segments of genetic material that can be used as indicators of the diagnosis of lung cancer.
In the expression of microRNA 34c, changes occur six months after treatment. In those patients who had a drug effect six months later, the expression of microRNA 34c was lower, in those participants who did not have any changes, the expression of microRNA 34c remained unchanged.
"Rather than waiting fifteen years for the results of the research, we could find out whether chemoprophylaxis is effective with the help of a given medication as early as six months after treatment. It would be possible to accelerate the pace of testing, which would ultimately lead to a faster introduction of new drugs into the market, "says Dr. Hirsch.
Dr. Hirsch says that this discovery needs additional studies and tests, but this ability to "predict" results with microRNA-34c can make a significant contribution to the quality of treatment for patients with lung cancer.