Scientists advise to add crickets to food

х
All iLive content is medically reviewed or fact checked to ensure as much factual accuracy as possible.
We have strict sourcing guidelines and only link to reputable media sites, academic research institutions and, whenever possible, medically peer reviewed studies. Note that the numbers in parentheses ([1], [2], etc.) are clickable links to these studies.
If you feel that any of our content is inaccurate, out-of-date, or otherwise questionable, please select it and press Ctrl + Enter.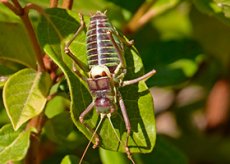 Have you tried grated crickets? Meanwhile, American scientists advise to add this ingredient to food: it normalizes the immune defense and improves the quality of the intestinal flora.
The exotic cuisine of many nations suggests the inclusion of a variety of insects in their food. However, for us, people who are not used to such "delights", even in the presence of a strong feeling of hunger, we would hardly want to try, for example, crickets.
Scientists representing the University of Wisconsin (Madison) are confident that crickets in the diet is a very useful addition.
The following experiment was made. Twenty healthy male and female participants (average age 18–48 years old) used either habitual food or the same foods as a breakfast, but flavored with grated, powdery insects, crickets. After a couple of weeks, the participants switched places. Now those who ate their usual food began to receive crickets as a food ingredient. All volunteers regularly passed laboratory tests: blood, feces for microflora. They also had to tell in detail about their eating habits and habits - during the whole experiment, regardless of the presence or absence of insects in the diet.
Throughout the study, no adverse events occurred when using the "supplement" among participants. However, according to analyzes, after drinking crickets in the blood of people, the level of the protein substance TNF, a well-known stimulator of the inflammatory response, decreased. Thus, it was possible to conclude that the "cricket" food led to normal immune processes. And yet: crickets increased the activity of the enzyme, the presence of which was considered an indicator of the health of the intestinal flora, while the microbiome was additionally enriched with a useful bifidobacterium that optimizes the digestive system.
Perhaps many will notice that too few people took part in the experiment, so it's impossible to call it indicative. Repeated studies are required with more participants. In addition, it is necessary to clarify: which substances make the spark powder so useful? Scientists suggest that chitin acts as such an active substance - a natural polysaccharide that makes up the external type of skeleton in invertebrates.
The scientific world has known about chitin for a long time: it is a substance chemically close to vegetable dietary fiber (also polysaccharide). Such fibers are an indispensable product for high-quality intestinal microflora: under their influence many useful substances are released, and the flora itself is enriched to the maximum. Of course, chitin is not fiber, but it may well be that the human microbiome can use it for food, extracting only benefit.
Detailed information about the study of scientists published on the pages of the publication Scientific Reports (https://www.nature.com/articles/s41598-018-29032-2).
[1], [2]