Physicians named the little-known cause of painful premenstrual syndrome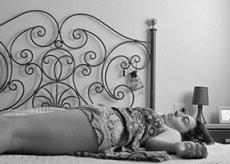 Experts have established some connection between a painful premenstrual syndrome and how often a woman drinks alcohol.
About premenstrual syndrome - abbreviated as PMS, - almost all women know, and even some men. This period is difficult not to notice: on the eve of the new monthly cycle, women dramatically change their behavior, their state of health is violated. Physiological and mental signs look like this: the mood becomes unstable, depression, irritability, and a constant sense of fatigue can develop. Premenstrual syndrome does not appear in all women, but it happens quite often. For example, in the United States, it was estimated that a mild-to-moderate syndrome regularly worries 30-40% of American women, and strong symptomatology is observed in 3-8% of cases.
Apparently, the development of premenstrual syndrome is associated with many factors - this is "to blame" for both physiology and the characteristics of the female psyche. According to doctors, one of such factors is the use of alcohol.
Representatives of the University of Santiago de Compostela conducted a number of studies, after which they compared the results. The comparison concerned design work on the development of premenstrual syndrome, and experiments on the effect of alcohol on the female body. Experts tried to understand how the experimentally obtained information is compared with each other, and whether it is possible to assume the existence of a relationship. The total number of projects that have been analyzed is nineteen. The total number of participants in the conducted experiments is more than 47 thousand people.
Experts have found that the development of premenstrual syndrome and alcohol use are really interrelated. So, those women who are positive about the use of alcoholic beverages in different amounts, 45% more suffer from the syndrome, in contrast to those who do not perceive alcohol in principle. In case a woman drinks regularly - even once, but every day - the danger of developing PMS in her increases by almost 80%.
Of course, it is important to properly track the existence of a cause-effect relationship. For example, in some women it is the use of alcohol-containing beverages that can aggravate the course of premenstrual syndrome. Other women can take this or that dose of alcohol only in order to muffle unpleasant symptoms. Therefore, it is a bit early to draw accurate conclusions: in spite of the fact that about two dozen studies have already been carried out, new information is required. It is necessary to conduct long-term observations of patients, comparing the actual addiction to alcohol and psychological dynamics.
Details of design work are described on the pages of LiveScience (https://www.livescience.com/62391-alcohol-pms.html).
It is important to know!
Severe form of premenstrual syndrome, with ineffectiveness of outpatient treatment and the threat of patient harming yourself or others with severe aggression or depression.
Read more..