A new drug blocks the self-healing of cancer cells.

х
All iLive content is medically reviewed or fact checked to ensure as much factual accuracy as possible.
We have strict sourcing guidelines and only link to reputable media sites, academic research institutions and, whenever possible, medically peer reviewed studies. Note that the numbers in parentheses ([1], [2], etc.) are clickable links to these studies.
If you feel that any of our content is inaccurate, out-of-date, or otherwise questionable, please select it and press Ctrl + Enter.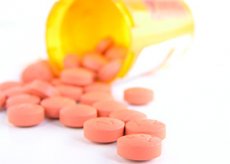 Malignant tumors are dangerous because of their cunning, unpredictability, and rapid damaging growth. In addition, the structure of a cancer is able to repair itself in almost any condition, even under the influence of the latest therapeutic methods. How to block the self-recovery of cancer cells and make them more vulnerable? Such a difficult question was posed by the British researchers. As a result, they created a new drug - a kind of cancer pills.
A new drug was created by a group of advanced scientists representing Francis Crick University and the University of Oxford. The action of a unique medication was aimed at creating vulnerabilities in the cellular structures of the tumor.
The bottom line is that certain types of cancer (for example, almost all malignant intestinal lesions) originate from a deficiency in the body of a particular protein substance - the aryl hydrocarbon receptor (aryl hydrocarbon receptor, ahr). This protein substance can be fully replaced by another component - indole-3-carbinol (indole-3-carbinol, i3c). According to one of the leaders of the research project, Professor Amina Metigi, the scientists studied rodents previously deprived of the ability to develop or activate ahr in the intestinal cavity. "We determined that such rodents rapidly develop inflammatory processes in the intestine, with further aggravation and growth of a cancerous tumor. However, when i3c protein is added to their diet, such processes are completely blocked. And even more: the addition of protein to animal feed with existing cancers allowed to reduce the degree of malignancy and reduce the parameters of tumors. Tumors have become more susceptible to chemotherapy. "
Artificial replacement of one protein substance with another similarly led to a decrease in the tendency of cancer structures to heal itself. The degree of vulnerability of tumor processes to radiotherapy and chemotherapy drugs increased. As a result, there was no need to take excessive doses of anticancer drugs, the number of side effects decreased, and the quality of treatment increased.
When scientists will conduct the first clinical trials of a new drug with the participation of people is still unknown. Experts believe that subsequent testing and research will help to understand at what stage the most effective use of a new drug in order to save the lives of patients affected by aggressive forms of a malignant disease. You should also find out if the medicament is suitable for prophylactic administration, whether there are negative aspects of such treatment - for example, side effects, long-term effects, etc.
The information is published on the pages of the information portal Hi-News.