More wild tigers on earth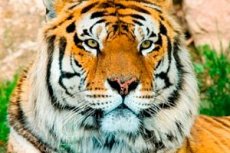 Over the past decade, experts first noted the increase in the tiger population. The World Wildlife Fund recently published its annual report, which noted that the number of tigers living in the wild, has gone on to high.
However, these large predatory cats are still in danger of extinction, but persistent efforts made by environmentalists to support the reproduction of wild tigers and reduce the threats posed by poaching and the destruction of their natural habitat, have helped to create the necessary conditions to the Tigers became gradually increase its number.
It is estimated that today in the nature there are about 4 thousand tigers, the main habitat is India, Japan, Thailand (a few years ago, there were the Tigers just over 3 thousand).
Over the past years there has been a lot of efforts to stop the extinction of tigers on the planet - the countries with the support of the Government Fund Leonardo DiCaprio, organized a series of meetings on tiger conservation, the purpose of which was to adopt to increase the wild tiger population programs at least twice by 2022 year. In addition, the parties discussed the measures necessary for the conservation of this species on the earth, and which was made to comply. Plan adopted at the forum demonstrated their effectiveness, and the World Wildlife Fund positively evaluated the situation in countries where the number of "wild cats" has increased.
But in other countries, which is also home to wild tigers (eg in Southeast Asia), the uncontrolled felling of trees and illegal hunting can lead to the complete disappearance of the tigers. Recently, this beautiful and powerful animals officially recognized extinct in Cambodia (Indochina Peninsula), where the Tigers have not met for about 9 years. 
To conduct an increasing number of wild tigers has spread after India announced that from 2011 to 2015 the number of these animals in its territory increased by 30%. In this country, adopted a series of measures for the conservation of these magnificent animals, in particular, the equipment stay protected areas for tigers, their breeding and subsequent release into the wild, the introduction of stiffer penalties for poaching and illegal logging. It is worth noting that about 70% of tigers are concentrated within the Indian government and the Indian government has proposed to restore this species in the world to send young tigers in other countries.
The first president of the World Wildlife Fund Dzhinett Hemli noted that the increase in the number of wild tigers on the planet, observed in recent years is only the beginning and programs aimed at preserving the "big cats" will continue. For decades, the world is rapidly decreasing number of tigers, but thanks to the coordinated work of various governments, local organizations, charitable foundations, the situation was reversed. But to achieve this goal, namely the increase in the number of wild tigers in the world at least twice, there is still a lot of work.