The interior of fast food provokes overeating
Very often excess folds on the abdomen are not the result of hormonal failures or other diseases, but simply the consequences of banal overeating.
Decor in fast food restaurants provokes people to eat more. This conclusion was made by scientists from the universities of New York and Georgia. The results of their observations were set out in the journal Psychological Reports.
American researchers came to the conclusion that a combination of brightly decorated interior and constant noise provokes people to eat more, which leads to overeating.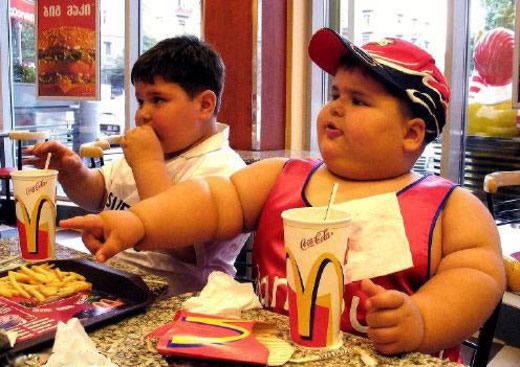 Experts conducted an experiment: the same people visited the fast food restaurants and restaurants, where a quiet atmosphere reigns.
As it turned out, in restaurants where quiet music and the interior is played in soothing, monochrome colors, people ate 174 calories less than in fast food establishments.
Found that if appropriately stimulate people, they will eat more and faster, not noticing that they consume extra portions. And in restaurants where a person does not get distracted by extraneous noise and does not attract the attention of mottled colors, nothing prevents one from concentrating on the meal. There, people eat less, take their time and feel when satiety comes.
Perhaps the high profits of the owners of fast food and is the result of knowledge of this strategy, because most of these institutions are decorated very much, and from all sides the person hears noise and loud music, because it's hard for him to hear the voice of his overfed stomach.
Often, for the design of "fast" restaurants used red and yellow colors, which, as you know, increase appetite. In addition, such premises are always very brightly lit, and from the speakers, fervent music rattles. And quite a different character is the decoration of expensive restaurants. There you will not hear rumbling music, usually in such institutions sounds slow jazz or classics. Especially unlikely to contemplate in such a restaurant brightly decorated walls and funny pictures hanging on the walls. It is this atmosphere that will allow a person to enjoy food and not overeat.
To the conclusions of experts it is useful to listen to the owners of fast-food empires who claim that they are ardent fighters with obesity. The least that they could do is repair in their institutions.
Of course, everyone chooses what he likes, and you can not forbid people to visit fast food, if they like it, but tasty hearty food can be healthy. Still, it's easier just not to build up a "lifebuoy" of fat around the abdomen, then try to get rid of it.
Medical expert editor
Portnov Alexey Alexandrovich
Education: Kiev National Medical University. A.A. Bogomolets, Specialty - "General Medicine"
Other articles on the topic

The issue of motherhood is a serious topic, which should be approached with all responsibility. Even before conception, the task of a woman is to prepare the body for the nurturing of a healthy child.

According to the International Classification of Diseases of the 10th revision of ICD-10, overeating is classified as: mental disorders and behavioral disorders (F00-F99).

For normal assimilation of food, metabolism is responsible. A complex of chemical compounds ensures the full functioning of cells and the interaction between the chemical composition of incoming products and the human body.
The latest research relating The interior of fast food provokes overeating

German specialists representing the University of Bonn conducted a study that demonstrated: human immunity "responds" to the use of fast food in about the same way as the introduction of microbial infection. Moreover, immune defense is damaged by fast food so that the subsequent transition to healthy and useful products does not lead to its recovery.
Many feasts or activities related to them occur in the evening, when you do not particularly want to eat, and besides it is harmful.