Green tea will only benefit if it is used properly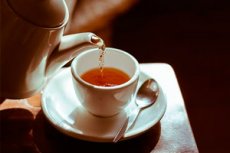 Experts have developed a number of rules, under which green tea will bring maximum benefit. Not all of these rules are scientifically valid, but their validity is proved experimentally.
Correctly cooked green tea will bring a hundred percent benefit - while tea, brewed and consumed with impairments, can be tasteless and even harmful.
Quality "right" green tea has a rich, incomparable taste, without the notorious taste of grass and bitterness. Water for welding should have a temperature of 65-85 °: if the water is colder, the tea will simply not reveal its taste. And if you pour tea leaves with boiling water, then the drink will become bitter and sugary.
The duration of brewing should be on average two minutes.
Having conducted a large number of studies, scientists have identified several fundamental factors for obtaining a quality drink.
The smaller the size of tea leaves, the less time they need to brew. Large leaf tea should be infused a little longer.
The best tea is brewed from large leaves. Small leaves are often interrupted along with shoots, branches, etc. The most heterogeneous and substandard mixture is present in tea, packaged in sachets.
The hotter water for brewing, the faster the leaves will release catechins. At the same time, water of lower temperatures (65-80 °) will make the drink more useful.
If the tea is brewed for a long time, it will not only become strong: it will increase the level of caffeine, as well as the amount of heavy metals and pesticides.
Special gourmets prepare tea in such an unusual way: tea leaves are pre-soaked in cool water for about two hours, and only then brewed according to all the rules. The tea prepared in this way becomes especially palatable, and incredibly useful.
If green tea is prepared competently, then, besides antioxidant and rejuvenating properties, it becomes inherent in the ability to remove the effects of stress, strengthen the heart muscle, prevent cancerous degeneration of cells.
In 2009, scientists examined the condition of the oral cavity in almost a thousand volunteers. The experiment showed that in those people who regularly consumed green tea, the gums were much healthier than those who ignored the use of this drink. Thus, it was found that the use of green tea prevents the development of periodontitis, eliminates bleeding gums and prevents erosion of the mucosa.
Simultaneously with the previous study, the scientists conducted several more. They managed to prove that the constant use of three cups of green tea daily reduces the risk of heart attack by more than 20%.
In addition, Japanese experts confirmed the fact that green tea inhibits age-related changes in the body. Especially it concerns the preservation of brain activity in the elderly and the elderly. Experiments have confirmed: if you drink about five cups of correctly brewed tea a day, then you can not worry about the development of senile dementia.
Medical expert editor
Portnov Alexey Alexandrovich
Education: Kiev National Medical University. A.A. Bogomolets, Specialty - "General Medicine"
Other articles on the topic

This question is very important, especially if you have an infant in the first three months of life. After all, it is at this age that babies are very sensitive to everything that mothers eat and drink when they are fed them with breast milk.

During breastfeeding, women are forced to limit themselves not only in food, but also in beverages. Carbonated water, some juices and alcohol are strictly forbidden.

Therapy of acute pancreatitis or chronic exacerbation often starts with curative fasting. During this period the patient is allowed to drink. So, can you drink tea with pancreatitis? It is possible and necessary.
The latest research relating Green tea will only benefit if it is used properly

What kind of drink do we usually drink in cool weather? That's right: hot tea. It not only warms, but also gives a rush of energy, eliminates the first signs of a cold, invigorates.

Karkade - a universal drink: it can be drunk in hot form in winter, or in cold - in summer. Especially often we remember the "red" tea in a hot season. Karkade with ice is a great way to quench your thirst and at the same time enjoy a pleasant taste.