Doctors warned about the dangers of electric scooters

х
All iLive content is medically reviewed or fact checked to ensure as much factual accuracy as possible.
We have strict sourcing guidelines and only link to reputable media sites, academic research institutions and, whenever possible, medically peer reviewed studies. Note that the numbers in parentheses ([1], [2], etc.) are clickable links to these studies.
If you feel that any of our content is inaccurate, out-of-date, or otherwise questionable, please select it and press Ctrl + Enter.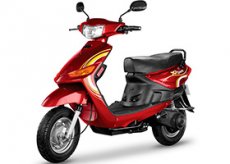 Electric scooters: this new type of transport is gaining more and more popularity, especially in big cities. However, doctors are sounding the alarm. According to them, such vehicles represent a danger to both health and life.
Traffic fuss and congestion on the roads are the main reasons why electric scooters quickly gained popularity. They are comfortable, relatively inexpensive, take up little space and make life much easier for a city dweller. And in some localities even institutions appeared in which you can rent such a vehicle and drive around the city without traffic jams and delays. By the way, renting a scooter costs not much more than renting a bike, and the degree of comfort is at the same time much greater.
And, if on our roads it is still not so often possible to meet electric scooters, then in America and Europe they drive around everywhere. Doctors are worried about this: according to the reporting information published by the emergency department of the Hospital Cedars-Sinai (Los Angeles), the degree of injury associated with driving on scooters has increased dramatically over the course of only a couple of months.
Trendy electric vehicles are easily accelerated to 25 km / h, they are accessible to all, do not require driving license. Almost completely "unsupervised", and they contribute to a sharp increase in accidents on the roads. Unfortunately, the majority of users do not even have elementary knowledge of traffic rules, they do not know the terms "traffic disturbance on the right" and "driving advantage". As a result, a huge number of people go to clinics with head injuries, with injuries of the limbs. Often innocent bystanders suffer from the wrong actions of electric drivers.
Many experts are sure: absolutely all electric scooters are no less dangerous than powerful gasoline mopeds and motorcycles.
"The driver of the car simply cannot notice the scooter in time because of its small size and" short stature ". Scooters literally slip between other vehicles, despite the obstacles and obstacles. In addition, they make no noise, so they are a nasty surprise for drivers, "explains orthopedic surgeon Barbara Bergin. The specialist adds that the vast majority of users treat the electric scooter, not as a vehicle, but as a small fun toy. However, such carelessness on the road leads to rather sad consequences.
Often you have to see how teenagers "drive" on scooters without a driver's license, without a helmet and other means of protection, and even with headphones. As a result of such carelessness - craniocerebral injuries, fractures, etc. Experts made an official statement: when riding an electric scooter, it is necessary to wear a helmet, knee pads, elbow pads. Using headphones while driving is strictly prohibited. And, before you sit behind the wheel of a scooter, you must at least once, but carefully, read the rules of the road.
Information is presented on the pages of medbe.ru
[1]