Collect the oil spills will help spurge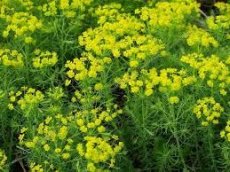 Euphorbia - a weed plant, which most farmers are trying to get rid of, in Canada in the province of Quebec began to grow massively. This plant is used to produce materials that help to clean up oil spills, both on land and in water.
Plants belonging to the family Euphorbia (small trees, shrubs, herbs) have in their composition fibers unique in their natural qualities. Fibers have good hydrophobicity (repel water) and are able to absorb several times more oil, in comparison with materials from polypropylene, which are now used to cleanse oil stains.
Light and hollow fibers easily tolerate the wind, allowing the plant to reproduce at fairly large distances.
As François Simard, the director of the company, which produces absorbent materials, noted that the milk fibers remain dry and light due to the wax coating. Such qualities are extremely rare in the natural environment.
To create a unique absorbent material, specialists mechanically remove from the seed and pods the milk fiber, which subsequently fill the pipes. Then all the pipes are assembled in certain sets and placed on top of the oil-contaminated surface.
According to the manufacturer, no chemicals are used in the process. As shown by the tests, 155 g of milkweed fibers can absorb seven liters of oily liquid at a speed of 23 l / min, which is twice as fast as the polypropylene materials currently used.
A ready-made kit with fibers of milkweed is able to absorb about 200 liters of oil, after which such a set should be removed from the contaminated surface.
Similar kits are already supplied to Parks Canada (the Canadian government agency) to use in places where oil has spilled, if necessary.
Currently, 20 farms have already been established, which are engaged in the production of milkweed. In the future, another 35 farms are planned to open. On farms, the spurge is grown without adding any fertilizer or additional irrigation, and all farms are located in natural regions for the plant.
Simard noted that raising milkweed is quite effective, since 125 hectares can be produced from a hectare, which in general are able to collect approximately 25,000 liters of oil. 
It is worth noting that farms that grow spurge contribute to the reproduction of butterflies of monarchs that live in southern Canada in the summer. Insects postpone their offspring to spurge, as this plant is the main source of food for caterpillars.
In recent years, the number of these butterflies has decreased significantly, since various pesticides are actively used in agriculture. There is even a special program in the country, in which the spurge should be planted along the route of movement of these butterflies. For this reason, the raising of the milkweed is necessary to maintain the population of these majestic butterflies.
The company - manufacturer intends not to stop on growing milkweed only for manufacturing oil-absorbent sets. The company plans to produce insulating material for winter clothing. According to experts, jackets with fibers of milkweed will be better and warmer than models with goose down.
Medical expert editor
Portnov Alexey Alexandrovich
Education: Kiev National Medical University. A.A. Bogomolets, Specialty - "General Medicine"