In Angola, biologists discovered a new animal

х
All iLive content is medically reviewed or fact checked to ensure as much factual accuracy as possible.
We have strict sourcing guidelines and only link to reputable media sites, academic research institutions and, whenever possible, medically peer reviewed studies. Note that the numbers in parentheses ([1], [2], etc.) are clickable links to these studies.
If you feel that any of our content is inaccurate, out-of-date, or otherwise questionable, please select it and press Ctrl + Enter.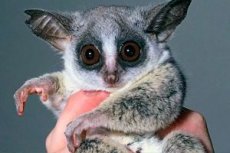 Biologists do not look at the forest slums of Angola so often - and completely in vain. Most recently, on a regular trip, they discovered a new species of primates in this locality - they were called the newest species of dwarf galagoids, Galagoides kumbirensis.
It is worth noting that the main modern discoveries of new species of mammals are performed in a genetic way: scientists analyze the differences between animal DNA analyzes, and then register a new related species. Given this, the discovery made in Angola is considered much more valuable. After all, the new animal is really unique - both in appearance and in view of comparative analyzes.
Often it seems to us that modern humans already know all possible and existing animals on Earth. However, the wild nature continues to amaze humanity.
The discovered primacy is the galago, the dearest and furry creature, who is awake at night and sleeps during the day. He is an indirect relative of lemur lory, and a distant congeners of Madagascar lemur and ay-ay (Madagascar's lapwing).
According to the scientists, they conducted scientific research in the forest of Kumbira, in the north-west side of the country. Suddenly a strange squeal was heard, which ended with a no less strange twittering sound. Biologists hurried on the callsign of the animal, expecting to see in the thickets of the usual galago. However, instead of him they noticed a completely different unfamiliar animal.
Large eyes, separated by a light line, dark coat on the muzzle, pronounced volumetric tail - similar characteristics are not typical for ordinary dwarf galagoids.
A new species of primates was named after the forest, in which they were discovered - Galagoides kumbirensis. The length of their torso is from 17 to 20 centimeters - plus the same size of the tail. Such dimensions make it possible to classify the animal as the "giants" among other dwarf galagas.
Also, scientists note that undeservedly deprived of the attention of biologists, the forest of Kumbira is a place of great biological diversity. However, because of the tree felling that has become more frequent in recent years, animals are forced to migrate, and some are even threatened with extinction. The new discovered species of Galagoides kumbirensis specialists already at this stage suggest to bring to rare and endangered animals. However, until this issue can not be resolved, because there is no information about the exact prevalence of the animal outside the territory.
Angola is a country with an unstable political situation. In the past century, active combat operations were conducted on its territory - it was a struggle for independence and civil wars. This explains the low attention of scientists to the fauna of this area, because to conduct research when fighting is near is not a good idea. It is for these reasons that today biologists are striving to learn as much as possible about those secrets and secrets that lurk in the vast forests of Angola.