Coffee with added oil will fill up energy and improve mental abilities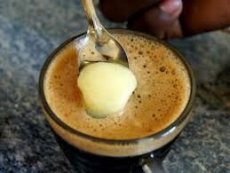 In Western countries, the fashion for coffee with oil is now becoming popular. It is believed that this coffee increases energy, eliminates fat deposits, improves concentration of attention. In large coffee houses in Britain and the United States, an oily coffee, called oily black or Paleolithic
Such an unusual recipe of coffee was told by the adherent of a healthy way of life Dave Asprej, who during a trip to Tibet was struck by the taste and useful properties of tea with butter from yak milk. As Dave himself assures, thanks to this drink, the body is charged with energy, which is enough for about six hours, and burning calories will occur throughout the day, to this, oily coffee improves the cognitive abilities of a person (mental function).
To make such a useful drink, you will need refined coke oil, butter (melted, unsalted). A few drops of coconut oil and 2 tablespoons of butter are kneaded in foam and added to freshly brewed coffee. Prepared in this way coffee acquires an unusual fat content and a rather specific taste. Some believe that such coffee not only will not help to normalize weight, but also lead to obesity, an increase in cholesterol, and this in turn is dangerous for the development of diseases of the heart and blood vessels.
In another study, specialists discovered unusual properties of coffee. As research has shown, coffee helps to reduce cocaine dependence, especially in women. 
It is proved that the use of cocaine provokes a change in the menstrual cycle and the hormonal background of a woman (in particular, the hormone estrogen).
In earlier studies, it was found that a high level of estrogen contributes to drug dependence, especially cocaine. Women in general are more acutely aware of even smaller doses of cocaine, compared to men.
Caffeine is able to block the changes occurring in the use of cocaine in the brain, in addition, caffeine relieves severe symptoms of drug dependence and restores the menstrual cycle.
Experts came to such conclusions after a series of studies on laboratory rodents. The head of the new research project was Professor Patricia Broderick, who noted that during the experiment in rats after cocaine, various changes in the cycle were observed. In this case, the changes typical for cocaine use did not occur if the animals received caffeine in half an hour after the drug or simultaneously with it.
During the use of cocaine in humans, there is an intensive release of dopamine (a pleasure hormone) in the brain. This is what leads to the euphoric state and leads eventually to drug dependence.
Caffeine affects the anti-stress system (adenosine), which protects against fatigue and is involved in the sleep-wake cycle. Nucleoside adenosine, which plays an important role in biochemical processes, normalizes the level of dopamine, which helps reduce the symptoms of drug dependence.
Other articles on the topic

People who are accustomed to starting the morning with an invigorating drink, usually choose between coffee and tea. The choice between chicory and coffee arises when doctors do not recommend invigorating remedies, and completely abandon the usual...

This question is often asked not only by young mothers, but also by all women who can not live a day without coffee. But the main thing you need to know is that coffee when breastfeeding can not only harm the child or mother, but it can also be...

Can I drink coffee during a diet? The question is ambiguous, because coffee can have different effects on different people. However, how to be the one who feels broken and defective, if the next morning began without a cup of your favorite drink?
The latest research relating Coffee with added oil will fill up energy and improve mental abilities

If you firmly believe that coffee helps fight against drowsiness, you can try other products that have the same effect, and in some cases, even greater.

Ilive presents five bad habits that will only improve your health if you know the extent.