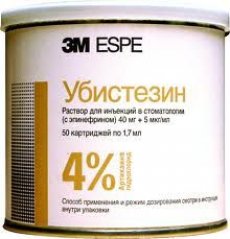 Ubistezin - anesthetic for topical application in dental practice.
Dosing and administration
Ubistezin in preparation for filling is administered in a dosage of 0.5 - 1.7 ml in the gum in the vestibular side. When removing the tooth, the highest dose is administered per tooth - 1.7 ml. At a time, you can inject up to 7 mg of articaine per 1 kg of body (adults). Anesthesia lasts for 50 minutes.
Overdose
Overdose Ubistesin accompanied by dizziness, a violation of consciousness, a violation of the heart rhythm. Free access to oxygen is required. To stop overdose, artificial ventilation is carried out, barbiturates are injected, in shock - electrolyte solution, plasma substitutes and albumins.
Special instructions
If long-term surgical intervention is required on the face, a sensitivity reaction is observed to many local anesthetics, while general anesthesia or sedation (drug-induced sleep) is used in the unstable psyche of the patient.
It is also possible to lubricate the tissues with anesthetic. This method is well suited for the treatment of small patients or for the removal of dental deposits. The drug is applied with a cotton swab. Very rarely, anesthesia is used by electrophoresis or by jetting, using an injector, an electromagnet and a laser, and freezing.
Local complications of local anesthesia in dentistry are short-lived. So, when using disposable needles, they are very rare, but they can break. To prevent this from happening, the needle is not injected to full length.
To ensure that the patient does not feel any pain during the injection, the anesthetic is injected very slowly. There are also nerve damage, which for a month slightly reduces sensitivity. The frequency of this complication is about 20%. Sometimes a spasm of chewing muscles may occur. It is associated with a needle-bow injury. Necrosis of tissues can also develop.
The advantages of local anesthesia in dentistry before anesthesia are obvious: in most cases, local anesthesia is easily tolerated, the toxicity of local anesthetics is minimal.
Nevertheless, there are cases when the use of general anesthesia is justified. It can be mask anesthesia, endotracheal or intravenous. For general anesthesia, the dental clinic must have a special permit. Most commonly, general anesthesia is used to implant teeth. Before the general anesthesia, the patient undergoes a checkup, both before the operation, the doctors thoroughly study his anamnesis. Under general anesthesia, many sick teeth can be treated at once and save time. General anesthesia is contraindicated in heart disease, stroke, asthma, diabetes, liver and kidney disease with a significant decrease in their function, pregnancy.
When anesthetizing, care must be taken in patients with diabetes mellitus and recent myocardial infarction.
Anesthesia fixes in memory a normal reaction to dental treatment. Dentistry and pain today are incompatible concepts. Therefore, fewer people are afraid of dental treatment. You can always choose an anesthetic that suits you. The toxic novocaine is no longer used. The patient does not experience stress and negative emotions when visiting a dentist, and the doctor calmly performs all manipulations. The success of treatment is determined not only by the extent to which new tools and technologies are used, not only by the doctor's skills, but also by the patient's psychological attitude. And it can not be positive if the patient is afraid. This factor is especially important in dental surgical interventions, since a person who is not even sensitive to pain and safely tolerating dental treatment without anesthesia will not want to remove teeth without anesthetizing. Especially when it is necessary to install implants by implanting them into the bone. In the majority of clinics for anesthesia use qualitative and safe import preparations. They can be used by pregnant women, they do not contain adrenaline. Also for sedation, sedatives can be used. This is called premedication.
Attention!
To simplify the perception of information, this instruction for use of the drug "Ubistezine " translated and presented in a special form on the basis of the official instructions for medical use of the drug. Before use read the annotation that came directly to medicines.
Description provided for informational purposes and is not a guide to self-healing. The need for this drug, the purpose of the treatment regimen, methods and dose of the drug is determined solely by the attending physician. Self-medication is dangerous for your health.