Medical expert of the article
New publications

х
All iLive content is medically reviewed or fact checked to ensure as much factual accuracy as possible.
We have strict sourcing guidelines and only link to reputable media sites, academic research institutions and, whenever possible, medically peer reviewed studies. Note that the numbers in parentheses ([1], [2], etc.) are clickable links to these studies.
If you feel that any of our content is inaccurate, out-of-date, or otherwise questionable, please select it and press Ctrl + Enter.
Spring nails are new, fresh trends in nail art that characterize renewal, energy and inspiration. The concept, which includes many ideas, is formulated with one single word - freshness. Spring nails are not screaming, shocking colors, they are style, neatness, elegance and lightness. The color scheme includes all tender spring colors, and the design - romantic drawings.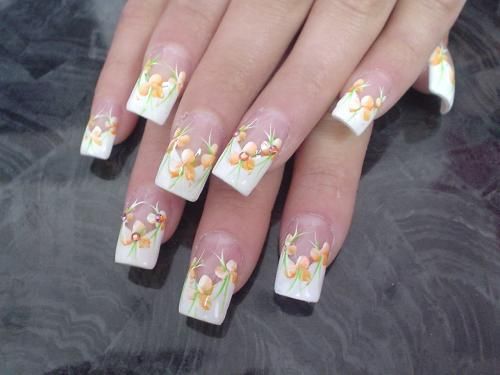 Nail length and shape
The season of spring 2013 is the laconic form and rather short nails. Away with five-centimetric a la Freddie Kruger patches, this has long been a sign of bad taste - unaesthetic, and not practical. Spring nails should be short or medium, comfortable length, not more than 4 millimeters. The shape of the nail is round, oval, a slight edge sharpening is permissible.
Spring nails - fashionable color and pattern
The color range of the nail art of spring 2013 includes all the colors of the spring sky, delicate greenery, blossoming flowers, in a word - the awakening of nature. Among the most popular designers predicted to be the following colors: 
Blue in all its variants - from gently celestial, bright to pale blue. Cool and fresh - this is the trend of your spring nails. Of course, the blue manicure looks unusual, but this color will effectively complement the minimalistic monophonic wardrobe, which is also a fashion trend of this spring. 
Rainbow on the nails. Surprisingly, but with all the craving for monochrome this season, the bright colors of the rainbow are also acceptable, of course, they are suitable only for young girls. Spring nails in rainbow colors should preferably be done in the "gradient" technique, which allows creating a blur effect and a smooth transition of tones. 
Pastel and cream. Here is a real trendy vector in the color range of spring manicure. All the same classic French style, but this season it differs spring originality due to the coloring of the edge of the nail plate with lacquer with metallic luster. Spring nails in French - this nail, covered with a varnish of a pale-peach color, adorned on the tip of a silvery thin strip. Stylish and suitable for both business image and festive parties. Spring nails in this version can afford women of any age. 
Theme of reptiles. The Year of the Serpent assumes the mention of the mistress of the year, even in nail art. Any hint in the design of nails on the snake skin will be appropriate if it is made with taste and in a gentle, pale color scheme. The combinations of a pale green and marsh hue, gray and silvery, beige-gray and golden are appropriate. The main thing is that the manicure does not look flashy-bright. 
All metallic shades. Spring nails in the style of metallic - this is the main gray-silver color with a delicate blue or white thin pattern. Today there are silvery varnishes that do not have a characteristic luster, that is, matte. Here they are and will be in vogue this spring. 
Delicate lace. Spring nails - this is a flirty design in the form of antique lace. Of course, such a design is only possible to an experienced master, but the effect will be stunning. Experts advise experimenting with a lace pattern on classic "French" nails. 
Flowers and leaves. If it's spring, spring nails should also be in flowers, which cover not the whole nail plate, but only a part of it. A small flower in the corner of the nail will create a spring mood, moreover, designers recommend applying a floral-leaf pattern on one or two nails, leaving the others with one-toned ones. Another trendy idea is to cover the spring nails with microscopic leaves or flowers only at the very edge, as in the French manicure version.
Spring nails - this is an occasion to please yourself with a new, fashionable design, admiring admirers and, perhaps, the envy of girlfriends.
It is important to know!
If the condition of the nails worsens, then, in the body, something is missing. Usually this happens in winter and early spring. Are there methods for preventing this phenomenon?
Read more..