The benefits and harm of sports in cancer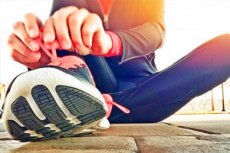 In the process of prevention or treatment of cancer, physical activity is an excellent help, since it can strengthen immunity by stimulating the synthesis of immune cells. Also, with the help of exercise, the weight of the patient stabilizes, which is very important, because it is known that excessive weight increases the likelihood of the formation of tumors. If the cancer develops against the background of obesity, it increases the risk of early metastasis. Therefore, according to doctors, sports and cancer are perfectly compatible.
Can I play sports at a cancer?
Physical exercise is a recognized and effective method of rehabilitation in the treatment of cancer. In addition, many people who are diagnosed with cancer, there is a depression, and the sport helps her to eliminate or reduce its symptoms.
Whether you can play sports in cancer, can only solve your doctor. Exercising should be done only under the supervision of a specialist. To begin training immediately following the diagnosis of the disease, especially if the person is not used to perform athletic exercises. To obtain a positive result must be properly combine endurance exercise (eg, exercise bike or walking), and gymnastic exercises (weight training, stretching, training to improve coordination).
Foot should walk more often and not zalozhivatsya in bed, so as not to aggravate iznuronnoe and tired feeling. You can also perform moderately homework, engage in mini-stepper.
Exercises Kind of picked individually, taking into account what type of cancer the patient is ill.
Benefits and harms of physical activity in cancer
Sport and cancer can be compatible - as the various studies show, there are exercises that can positively affect the health of the patient and help in the treatment of oncological diseases.
Thanks to sports loads after the diagnosis of cancer patients life expectancy increases and the risk of a possible relapse, on the contrary, decreases. This is especially useful in patients who are suffering from colon cancer, ovarian, breast and prostate.
It is not recommended to do intense or too heavy exercise - from them in cancer will be more harm than good.
If you are going through chemotherapy, it is impossible to carry out exercises in the day of the procedure, and 6 hours after its completion. Physical exercise should be limited, if there will be any pain. In general, stress is necessary to dose, in consultation with a qualified professional.
The latest research relating Польза и вред спорта при раке

To date, a large number of various methods of neutralizing cancer tumors are known. But so far, doctors have not stopped at all on one of them - an ideal cancer treatment has not yet been found.